"I've chased Nazis, Neo Nazis, Hezbollah supporters, Jew haters of all kinds all over the world mate! 😎
The French Foreign Legion. Real Neo Nazi head cases, absolute head bangers from Poland, Ukraine, Czech… Believe Europe should have a Fourth Reich and exterminate every Jew. Training for it in the toughest military in the world.
Brazil and South America… where The Nazi Fourth Reich is still alive and flourishing, financed by the likes of Mossack Fonseca 😉… The children and grand children of actual Nazis… With names such as Adolf.
Hezbollah in Cuba, in London… making enough explosives to destroy a few blocks…
What scares me about what the left are doing and saying in the UK is… THEY HONESTLY DON'T THINK WHAT THEIR DOING AND SAYING IS DANGEROUS!
LABOUR SUPPORTERS CALL OUT CORBYN'S COMMENTS FOR ANTISEMITISM
By TAMAR BEERI
"The Jews are always coming up with this stuff."
The Israel Advocacy Movement (IAM) took to a left-wing rally ahead of the UK's elections and filmed protesters' reactions to antisemitic comments and acts by Labour party leader Jeremy Corbyn, disguised as having been by Prime Minister and Conservative Party leader Boris Johnson.
The presentor read out comments and events that had happened in relation to Corbyn, but replaced his name with Johnson's. In the first incident, he told of Corbyn's endorsement of a book from the early 20th century which suggests that banks were controlled by Jews.
Corbyn wrote the foreword for the book in which he said that the European economy was controlled "by men of a single and peculiar race," according to Independent.
One protester said that it does not surprise him that Boris Johnson would say such a thing because "they both seem to rewrite history," while another said that nothing that Johnson does surprises him anymore.
The next headline they spoke of was in early April, although the event took place in 2011, in which Corbyn defended an Israeli-Arab heate preacher named Raed Salah when he was deported from the UK. He said that Western governments should stand up to "the Zionist lobby" when defending the man who had previously suggested that Jews used the blood of European children to make holy bread, and who had been arrested previously for channeling money to Hamas.
Every protester interviewed said that anyone who supports such a person should not be voted in for Parliament. One protester said, "Had that been in the Labour Party, they would have been expected to resign or make a public statement and resign."
After these comments, the presenter revealed to the protesters that the events were about Corbyn.
"I don't know much about it, but the Jews have got a lot of money and a lot of power, haven't they?" said one protester in response. "They do manipulate things. Power is money."
"Does it concern you that 50% of British Jews are considering leaving the country?" the presenter asked.
One protester said that "the Jews are always coming up with this stuff."
"Where are they going to go, to Palestine?" another asked in response. "Why are they scared of [Jeremy Corbyn,] because they've got all these offshore accounts and they don't want to pay any tax?"
The presenter asked them if they still believe that Corbyn should be allowed in Parliament.
One woman openly changed her mind, saying, "No, I don't, to be honest." Another protester said that he does not believe that Corbyn is "strong enough."
Other protesters stuck their ground, such as one who said, "I still think you should vote Labour," and another who told the presenter that he does not approve of the trick used to produce the video.
Corbyn apologized on Tuesday for the antisemitism in his party on Tuesday after a television host prompted him several times to "just say sorry."
According to a YouGov poll commissioned by the Campaign Against Antisemitism, 67% of British adults who support Corbyn "hold at least one antisemitic view."

LABOUR CALLS THE RANKING 'RIDICULOUS AND GROSSLY OFFENSIVE'
Wiesenthal Center names UK's Corbyn top anti-Semite of 2019
Ahead of Thursday's British elections, Labour chief placed above US synagogue killer on group's annual list; rabbi warns electing him would make UK a 'pariah'
Britain's opposition Labour party leader Jeremy Corbyn holds his party's manifesto book aloft as he addresses a crowd outside the venue of a general election campaign event in Swansea, south Wales on December 7, 2019. (DANIEL LEAL-OLIVAS / AFP
The Simon Wiesenthal Center named UK Labour leader Jeremy Corbyn as its the top anti-Semitic person or event for 2019, and warned that Britain would become a "pariah" if it elects the hard-left leader as prime minister this week.
Jewish groups and others have rung alarm bells over the prospect of Corbyn's promotion to 10 Downing Street with increasing distress as the December 12 British election has approached, accusing him of allowing a massive rise in anti-Semitism within the ranks of the party and of being anti-Semitic himself.
"'No one has done more to mainstream antisemitism into the political and social life of a democracy than the Jeremy Corbyn-led Labour Party," Rabbi Marvin Hier, the head of the Los Angeles-based Simon Wiesenthal Center, told the British Daily Mail.
Get The Times of Israel's Daily Edition by email and never miss our top stories FREE SIGN UP
"If Jeremy Corbyn wins, he will make Britain a pariah on the world stage," Hier said. "To have a person seeking the highest office who ignored anti-Semitism for years, who did everything in his power to encourage it is shocking."
Dean and founder of the Simon Wiesenthal Center Rabbi Marvin Hier seen at Fox 2000 Pictures special screening of 'The Book Thief' held at the Simon Wiesenthal Center's Museum of Tolerance, on Saturday, November, 2, 2013 in Los Angeles. (Photo by Eric Charbonneau/Invision for Twentieth Century Fox/AP Images)
Hier, whose center is named for the famous Nazi Hunter Wiesenthal, also appeared to compare the dangers of Corbyn to those of Nazi Germany, saying people cannot stay silent. "We don't want to get it wrong again. We cannot sit back and watch this happen again."
This is not the first time Corbyn has found himself on the annual list, which also includes anti-Israel events. In 2016, Labour anti-Semitism under Corbyn was listed as No. 2 by the Center, behind the US abstention on a UN vote on West Bank settlements. In 2017, Labour anti-Semitism placed 10th and last year Corbyn was listed as No. 4.
The list is normally published in late December or early January; the earlier release this year may have been timed to come out ahead of the upcoming UK vote.
Corbyn's placement on the list was first reported by the conservative Mail on Sunday tabloid, which devoted a full page to it.
The Simon Wiesenthal Center, the most prominent Nazi Hunter association in the world, has concluded that Jeremy Corbyn's #Labour Party is the biggest threat worldwide to Jews. Absolute indictment of the Party's failure to act on, and promotion of, anrisemitism.
Rik W #BackBoris #GetBrexitDone@Rik_J_W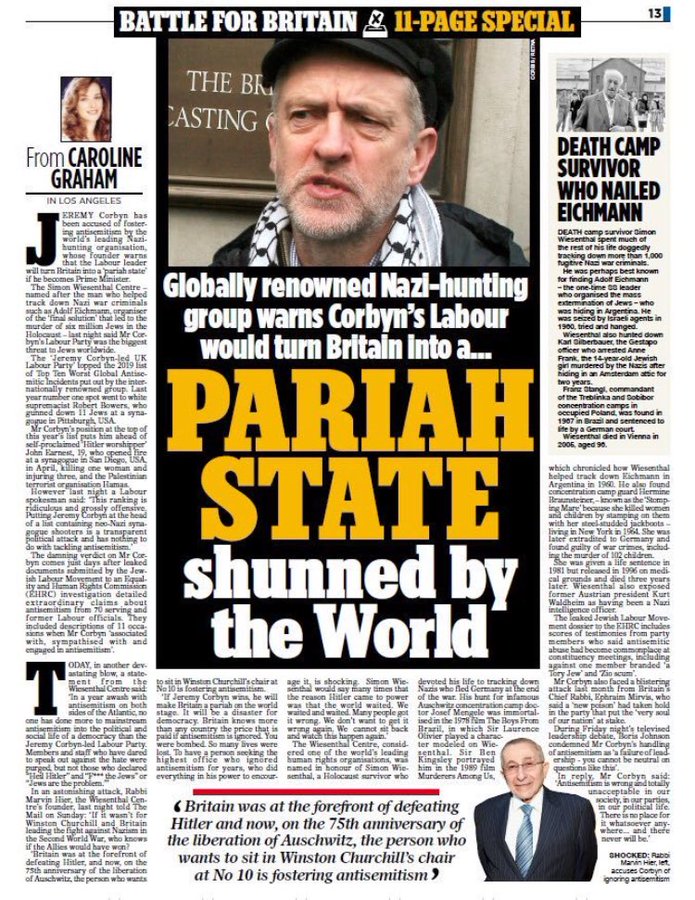 Corbyn's placement on the list puts him ahead of John Earnest, a far-right gunman accused of opening fire inside a California synagogue in April, killing one.
Labour responded by calling the ranking " ridiculous and grossly offensive."
In this April 28, 2019 file photo, a San Diego county sheriff's deputy stands in front of the Poway Chabad Synagogue in Poway, California, following a shooting that left one woman dead and wounded three others. (AP Photo/Denis Poroy, File)
"Putting Jeremy Corbyn at the head of a list containing neo-Nazi synagogue shooters is a transparent political attack and has nothing to do with tackling antisemitism," a spokesperson said, according to the Mail.
On Thursday, a dossier from the Jewish Labour Movement accused Corbyn of personally engaging in anti-Semitism in nine separate cases.
The accusation was featured in a damning 53-page report filed to a body tasked with probing anti-Semitism within the UK's main opposition party.
Thousands of cases of alleged hate speech against Jews have been recorded within Labour since 2015, when Corbyn was elected to lead it. The party is currently being formally investigated by the UK's anti-racism watchdog.
Corbyn has insisted that he is not anti-Semitic and his party has dealt with the problem. Last week, he said he was "sorry for everything that has happened" regarding the ongoing tensions between his Labour Party and the British Jewish community, after earlier refusing to say so when repeatedly asked by the BBC's Andrew Neil.
Conservative Prime Minister Boris Johnson ha refused to be interviewed by Neil.
Illustrative: Chief Rabbi Ephraim Mirvis gives a speech as he attends a Holocaust Memorial Day Ceremony at Central Hall Westminster, January 27, 2015. (AP/Chris Jackson)
Last month, Britain's Chief Rabbi Ephraim Mirvis took an unprecedented stand urging voters to see the "new poison" that has taken root in the Labour party, and expressing fear for the fate of Jews in the country should Corbyn become prime minister.
Much of the worry over Corbyn is spurred by revelations about his record that have emerged since he became Labour leader. These include him describing Hamas and Hezbollah as "friends"; defending an anti-Semitic mural in East London; and a seeming willingness to associate with alleged anti-Semites, terrorists, and Holocaust-deniers.
Illustrative: Anti-Israel activists react outside a meeting of the Labour National Executive Committee in London, September 4, 2018. (Stefan Rousseau/PA via AP)
The Britain Elects poll aggregator has put the Conservatives on 42 percent, Labour on 33 percent and the Liberal Democrats on 13 percent.
Conservative Prime Minister Boris Johnson called the snap election — the third in Britain in nearly five years — last month to try to get a parliamentary majority which would enable him to secure backing for his Brexit deal.
EXCLUSIVE: Hamas' Ties with Jeremy Corbyn's Labour Party Election Efforts
By Baruch Yedid / TPS – 11 Kislev 5780 – December 8, 20190
Photo Credit: Majdi Fathi/TPS
Hamas officials in the Gaza Strip and London's Hamas institutions have joined forces to support Jeremy Corbyn and the Labour Party, ahead of the upcoming UK elections this week.
One of Corbyn's largest support networks has been managed from the Gaza Strip, with the knowledge and involvement of the Hamas leadership, TPS has learned.
---
---
The multifaceted relationship between Hamas and the Labour Party exists through a large number of organizations, forums, media outlets and activities on social networks. These Hamas organizations are actively engaged in the efforts in recent weeks to secure Corbyn's election.
The "We support Jeremy Corbyn" Facebook page, with some 72,000 followers, is one of the largest and most important of the Corbyn support organizations across the world.
Walid Abu Rouk, a resident of Khan Yunis in the Gaza Strip, managed the page for over two years. In June 2017, Labour activists decided to add Abu Rouk as a manager to the page, declaring him their representative in the Gaza Strip.
Labour activists have conducted several fundraising campaigns for his projects in Gaza during this time. Labour activists describe Abu Rouk as a staunch supporter of Corbyn and declared that he is "our man in Gaza."
Speaking to TPS, Abu Rouk said he had served as the page manager until recently, but he still maintains relationships with Corbyn's party activists.
Labour activists in London have directed supporters to contact Abu Rouk and receive information and publications from him, but he is no simple social activist. The findings and evidence indicate that his relationship with Labour does not exist in a vacuum. Abu Rouk is a central link within the hidden relationship that serves Hamas in its political relations with Labour, and that may be what prompted Labour activists to appoint him as the director of the Facebook page from the Gaza Strip.
A source in the Gaza Strip told TPS that "Abu Rouk serves Hamas' information campaign and is guided by it."
Another official in the Gaza Strip, who asked to speak on condition of anonymity, told TPS that Abu Rouk is an important link in Hamas' English-language propaganda system and that he operates under Hamas' guidance. As a violent terror dictatorship, Hamas does not allow free media activity in the Gaza Strip.
Additional research conducted by TPS through a third-party conduit with Hamas officials, also indicates that Abu Rouk operates under Hamas' directive and is being guided by it because of his command of the English language.
In recent years, Hamas' internal security apparatus has placed its people in the offices of important media outlets in the Gaza Strip and in control of Facebook pages. News site owners and page managers on social networks have been required to give Hamas members access to their sites' domains and management of their social media pages.
The same is true of Abu Rouk, one of the founders of the GP + media site in the Gaza Strip. The reporters writing for the site are supervised by Muhammad Ibrahim Madhun, a journalist who is often quoted by leading international media outlets as a Hamas affiliate. Madhun is also involved in illegal activities. A source in the Gaza Strip claims that several years ago, Madhun hosted a planning session of the Hamas military wing in one of the GP + offices. The office was bombed shortly afterward by Israel.
Abu Rouk said in a phone call with TPS that he writes for Aljazeera, the Qatari news network affiliated with the Muslim Brotherhood, for the PALESTINE 24 website and for the Middle East Eye website. These sites are affiliated with Hamas.
Abu Rouk also writes for the London-based Memo Monitor newspaper, which is considered one of the UK's Muslim Brotherhood's media sites. Memo's editor is Daoud Abdullah, one of the Muslim Brotherhood's top British leaders. Another senior official is Ibrahim Hewitt, who is also affiliated with the Brotherhood in the UK.
Memo monitor writers often express support for Corbyn and the Labour party, and the party receives particularly sympathetic coverage by the Memo website.
Speaking to TPS, Abu Rouk specifically stated that he agrees to work with the Israeli media, which he usually boycotts, only if it is done through the Memo office in London.
Another senior reporter at Memo is Motasem Dalloul, a resident of the Gaza Strip. Dalloul edits the website "Days of Palestine" which is affiliated with Hamas. A source in the Gaza Strip reports that Dalloul is one of the leaders of Hamas' English language propaganda campaign. He also edits the English content on Hamas' official Al-Risala website.
Abu Rouk readily admits to his work in the various media outlets, which are affiliated with Hamas, and the fact that he ran the Corbyn support page, alongside Labour activists, but he denies any connection to Dalloul. Dalloul also claims that he does not know Abu Rouk. The two, residents of the Gaza Strip, work for the same newspapers, which express open support for Corbyn and identify with Hamas and the Muslim Brotherhood, yet they deny any connection or acquaintance. However, when Dalloul was injured several years ago, Abu Rouk took to social media to post his well wishes and prayers for his "dearest friend" Dalloul.
In addition to his activities in media outlets of extreme Islamic nature, Abu Rouk advocates for the boycott of the Israeli media. Like him, Corbyn's support page is boycotting important British media sources and prohibits the uploading of content or links from the Daily Mail and the London Sun.
Abu Rouk is a BDS activist involved in several BDS organizations. He writes for Jewish Voice for Peace (JVP), an organization known for its extreme left positions and its support for boycotts of Israel and its ties with BDS movement. He also promotes the so-called Freedom Flotillas to the Gaza Strip on behalf of a British organization called Viva Palestina.
Viva Palestina was founded by former British Labour Member of Parliament George Galloway, who was expelled from the party over anti-Semitism. Kevin O'Banden, the association's secretary-general, met with Hamas leader Khaled Mashal in the Gaza Strip in 2009, as Galloway's deputy.
Another one of the organizers in the flotilla effort is Khadijah Hassan, a supporter of Corbyn.
Hassan, British in origin, converted to Islam and moved to the Gaza Strip under the auspices of the Hamas Religious Scholars Association. She is active in Labour and most of her activities are in the boycott organizations against Israel.
Viva Palestina, which is registered in the UK, operates under the instructions of senior Hamas official Zaher Birawi, who has also been identified by Israel's security service as one of the top Hamas representatives in the United Kingdom. A source in the Gaza Strip told TPS that Birawi is responsible for all Hamas-UK relations and they call him the holder of the "Corbyn-Hamas file."
Thousands attend Westminster antisemitism protest
Actress Tracy Ann Oberman told the crowd: 'The Jewish community are caught between the pincer grip of the far right and the hard left.'
By MATHILDE FROTDecember 8, 2019, 4
Thousands braved the cold weather on Sunday to join a rally against antisemitism which organisers said attracted around 3,200 people.
Protesters held placards marked "Together against antisemitism" and some bearing slogans such as "Antisemitism = Racism / Mr Corbyn – J'accuse" and "racist Corbyn unfit to be PM" during the rally in Parliament Square led by Campaign Against Antisemitism.
The group said some had travelled from Glasgow, Liverpool, Wales and Manchester for the demonstration which sought to raise awareness of growing "Jew-hatred in politics and mounting anti-Jewish hate crime."
Gideon Falter, chief executive of Campaign Against Antisemitism, told the crowd: "Today we are here in this square standing before the Mother of Parliaments in the country of the Magna Carta, the country that stood alone as a light in Europe as the hatred of Nazi Germany enveloped the continent.
"We stand here to say that Britain is better than this. We stand here to ask all of the people of our country to stand with us."
52-year-old Daniel Anderson, from New Southgate, said the event was his first rally against antisemitism.
"I haven't previously been to rallies that they've held in the past. I thought that this time we really need to make a stand," he told Jewish News.
"I'm certainly not a supporter of a Conservative government. On the other hand, what we're talking here is so fundamental to the future, not just of Jews, but I think of many right minded people that frankly, there is a major concern on what the outcome could be next week," he added, in an apparent reference to the 12 December poll.
Placard held at Westminster protest against antisemitism
Sara Gibbs, 32, a vocal antisemitism campaigner on social media, said the rally was an opportunity to meet and show solidarity with others amid what she described as a "stressful and difficult time" for the Jewish community.
"I think sometimes just the feeling of togetherness and feeling like there are other people around to understand what you're going through, it's really important, because you know when you're online and you're fighting this stuff, it can feel very isolating and even if you're in the community online you're still seeing your laptop at home," she said.
Also at the protest, 23-year-old student Louis Elton, from Bayswater, said: "I came [to the rally] because my family are Jewish and I find it very upsetting that antisemitism is going to be drowned out as one issues of many."
Actress Tracy Ann Oberman, who has been a vocal critic of the Labour Party over the antisemitism row, delivered an emotive speech punctuated by applause from protesters.
She said: "The Jewish community are caught between the pincer grip of the far right and the hard left. Things that used to be mumbled into pints of beers in pubs, or behind closed doors of gentlemen clubs are now spoken about and shared freely, without shame.
"I myself have been called a Jewish b**ch, a Zio shill, a paid Israeli Mossad operative with too many shekels in my bank account, that I speak out because I am a tax evader, that like all Jews, I just want to hide my money. I am a zio w**re, and a babe killer.
"Every day I wake up to a barrage of abuse online because I will not shut up. I will not be intimidated, and I will not go away."
Tracy Ann Oberman (Credit: Nathan Lilienfeld)
She added: "This is our home. We don't want to go anywhere. We don't have to go anywhere. We have a right to be here. We have a right to feel heard. We have a right to feel welcome, and we have a right to feel safe."
Barrister and TV personality Robert Rinder, whose grandfather was a Holocaust survivor, told the crowd: "The fact that you are here is an act of courage.
"It is a tragedy itself that it needs to be an act of courage. Being a Jew shouldn't be an act of courage, not just the rich gifts, the threads that we've sewn into the tapestry of our incredible country.
"The tragedy is, that's how it feels today. That's how it feels to be Jewish, that to be Jewish requires us to be brave, that to be Jewish is something which is dirty furtive and dangerous. Well, we're here today to say that it's not."
"The reality is there are millions out there, millions people of goodwill of every creed of every class of every background of every single religion that understands that what starts in a mural ends in murder," he added.
The rally featured two non-Jewish speakers, including interfaith campaigner Fiyaz Mughal, founder of the group Muslims Against Antisemitism, who warned antisemitism was "the canary in the coal mine".
"Not only is that a fact that it doesn't start and stop there, it affects all of us, and that is why it is essential that we all people our faith and people of no faith, stand up for the decent human centred British values that we are defending at this election," he said.
"You fought for my rights as a person from a different community coming to live in this country, you invested in this country. You gave up a lot of what your future was for people like me so I take my hat off to you today. And for every day that I'm in this country because my Jewish brothers and sisters have given me a life," he added.