"Those who live in glass houses, shouldn't launch missiles… Well they can launch missiles… Just not at Israel"
Is there any confirmation of this? Senior Iranian military?
Mossad reportedly eliminated senior Iranian military official in Syria on Sunday (media)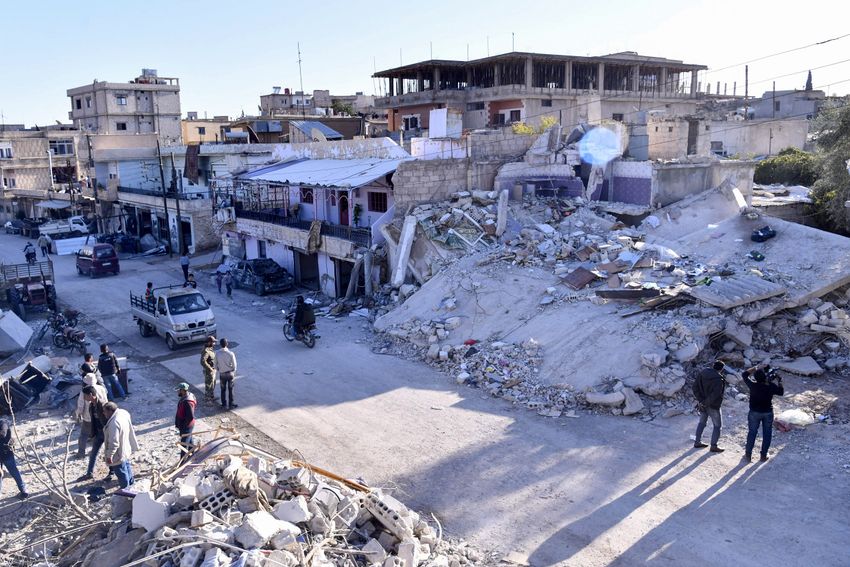 According to the OSDH, 23 people, 21 fighters including 16 foreigners, were killed in Israeli raids
Mossad, one of Israel's three intelligence agencies, reportedly eliminated a senior Iranian military official in Syria on Sunday, Saudi news channel Al-Arabiya reported on Wednesday. Syria: Mossad would have eliminated a senior Iranian military official on Sunday.
That would have resulted in the firing of four rockets Tuesday from Syria on Israel, intercepted by the Israeli missile defense system.
In response to the rockets, the Israeli army on Wednesday morning confirmed "large-scale" strikes against positions of the Syrian regime and Iranian forces Al-Quds in Syria.
According to the army, Israeli fighter planes hit a "dozen military targets" in Syria, including warehouses and military command centers.
According to a new report from the OSDH, 23 people – 21 combatants, including 16 foreigners, and two civilians – were killed in these Israeli night raids.
"It was brief and very intense," said Israeli army spokesman Jonathan Conricus. "The main target was + the glass building +" located in the "military perimeter of Damascus International Airport", according to him.
"This is the main building used by Revolutionary Guards (…) to coordinate the transport of military equipment from Iran to Syria and beyond," said the official.
Iran's Syria HQ was target of latest Israeli strike
'Glass House' compound was also reportedly Syrian headquarters for of Iranian Revolutionary Guard, had private clinic with 20 hospital beds, vaults holding millions of dollars in cash and two underground bunkers
Sa'ar Haas,Yoav Zitun|Updated: 11.20.19
The Israel Air Force attacked on late Tuesday several military targets in Syria, including anti-aircraft batteries, weapon storage facilities and military bases. But one of the central targets within the 20 that were attacked was the "Glass House", the headquarters for the Iranian Revolutionary Guard in Damascus.
IDF's Spokesperson's Unit said that half of the targets attacked were Iranian, among them the sector command and control base for the Al-Quds Division of the Revolutionary Guard Corps at Damascus International Airport. A military official nicknamed the structure, which was attacked for the first time by Israel, as the "Syrian National Defense Office". During Israel's Operation House of Cards on May 10, 2018, the IDF initiated a vast airstrike on military targets in Syria, the likes of which had been unseen since 1974.During that attack, the "Glass House" was not hit, but a storage facility next to the building was. Following the IDF's nighttime attack on Tuesday, in response to rocket fire directed at the Golan Heights, satellite images showed the building being evacuated and its fourth and fifth floors decimated by the attack.
Also, earlier this year, on January 10, a significant aerial attack by Israel targeted Al-Quds forces in Syria. Following that attack, satellite images by ImageSat International revealed no damage to the Iranian headquarters. But this time, after four rockets were fired at Israel – which were intercepted by Iron Dome – the "Glass House" was not spared. And yet, a security official stated that "the building was attacked, but not destroyed". The importance of the "Glass House" to the Iranians, was first publicized three years ago, following a Daily Mail expose, detailing the location as the headquarters for the Iranian army in Syria. According to the report, which was based on information given by the France-based Iranian opposition group NCRI, the third and fourth floors of the building were manned by an intelligence unit of the Revolutionary Guard Corps, who essentially man the whole structure.
Entrance to the building is prohibited to all but senior Syrian army officials. The report also detailed the first floor consisting of a coffee shop and a private clinic with 20 hospital beds for senior officials wounded during the fighting in Syria.It also hosts members of the propaganda wing of the Revolutionary Guard Corps and includes prayer and rest areas. The basement, according to the report, stores millions of dollars in cash and two underground bunkers.
The "Glass House" was originally built as a 180-room hotel, with a capacity of up to 1,000 visitors. A 2017 report by NCRI said that all forces affiliated with the Revolutionary Guard Corps receive an ID for the "Glass House" upon their arrival in Syria. It is difficult to fully estimate what is true and what is false regarding the "Glass House". What can be said is that Israel struck an important target of the Iranians on Tuesday night.
EX-MOSSAD CHIEF: ISRAEL MUST DISRUPT IRANIAN INFLUENCE IN IRAQ
By YONAH JEREMY BOB
Yatom was responding to hundreds of newly leaked Iranian documents that offered a detailed portrait of how aggressively and successfully Tehran has penetrated Baghdad.Israeli intelligence must work to disrupt Iranian influence and its natural advantages in Iraq that could endanger Israeli security and Western interests, former Mossad chief Danny Yatom told The Jerusalem Post on Tuesday.
Reflecting over Monday's reports in The Intercept and The New York Times regarding hundreds of newly leaked Iranian documents that offered a detailed portrait of how aggressively and successfully Tehran has penetrated Baghdad, Yatom said that the challenge was considerable, but that Israel could rise to the moment.
"Iran has a big advantage," the former Mossad chief said. "There are many Iranians in Iraq," highlighting that this home-field advantage makes it much easier "to build large facilities from which they can fire missiles" on Israel.
Yatom noted that both Israeli intelligence and the country's aerial power might be in play, with Israel already having suspecting Iran-loyal militias that were building new capacities to potentially attack Israel from within Iraq.
"Iran wants to influence Iraq's prime minister who often acts as if he is acting for them," Yatom explained. "He is Shi'ite. Also, the prime minister before him was Shi'ite, but the newest one seems to lean even more toward" the Islamic Republic.
Noting that the current Iraqi prime minister "is not stopping Iran from sending militias into Iraq or building facilities there," Yatom said that another issue raised by the report was the enhanced opportunity Iran has in Iraq to try to turn CIA, US State Department and other Western officials to start working for them.
"Iran is exploiting all of its options, not just in Iraq itself," but using its penetration of Iraq to "recruit spies who will spy on Israel, the US and NATO states."
Tehran's goal continues to be using Iraqi territory "to train, to prepare attacks, to fire rockets that can reach Israel, and to spread out" its capabilities for attacking Israel and adversaries like the Saudis to as many places as possible, including Yemen, "so that it is harder for Israel, the US" and others to manage.
Despite all of the freedom that Iraq is giving Iran to operate in its territory and the potential cover that this gives the Islamic Republic, Yatom said that he did not think Iraq itself "has any interest in clashing with Israel directly. It is enough to give Iran lots of freedom."
Yatom lamented that "until the US withdrew from Iraq, US influence was strong enough that Iran did very little there besides work with Shi'ite groups like that of Muqtada al-Sadr," which, though problematic, was not nearly as threatening to Israel and the West as current groups directly controlled by Iran.
However, Yatom was still confident that Israeli intelligence has the capacity to penetrate Iraq to perform surveillance regarding Iranian forces and militias. "Israel always needs an intelligence presence in every place that endangers us and any place where there are Iranians," he said, adding that although there were always challenges, it was easier to collect intelligence in Iraq than in Iran.
This was a strong statement given that in January 2018, dozens of Mossad agents penetrated the heart of Tehran to make off with the Iranian's secret nuclear files.
The Iranian intelligence documents that were revealed on Monday went into great detail about their work, especially regarding al-Quds Force chief Qasem Soleimani, to embed themselves into every area of Iraqi affairs.
Documents from the leaked cables detail years of painstaking work by Iranian spies to co-opt the country's leaders, buy-off Iraqi agents working for the US to switch sides, and infiltrate Iraq's political, economic, and religious life. Mainly, the documents portray Iran as broadly outplaying the US within the Iraqi arena, especially when the CIA started to cut back its investment in Iraq.
One Iraqi nicknamed in the cables as "Donnie Brasco" turned to Iran for protection when the CIA started cutting many of its Iraqi agents loose.
He promised to tell Iran everything he knew about American intelligence gathering in Iraq – it was all for sale.
Monday's report said that the documents indicate that he revealed "the locations of CIA safe houses; the names of hotels where CIA operatives met with agents; details of his weapons and surveillance training; and the names of other Iraqis working as spies for the Americans."
Yatom made it clear that unlike the US, Israel would need to play the same longer-term game that the Iranians are playing, without dropping out of the game prematurely.
Some of the Iranian intelligence cables describe real-life espionage capers in dark alleyways and shopping malls, or under the cover of a hunting excursion or a birthday party.
These documents describe informants lurking at the Baghdad airport, copiously photographing American soldiers and performing surveillance of coalition military flights.
The archive even contains expense reports from Iraq's intelligence ministry going deep into minutia, like €87.50 spent on gifts for a Kurdish commander.