Ask Michael 'Dark Prince' D'Andrea?
… hey Ayatollah Mike! 😀
'Time to eliminate Revolutionary Guard leader'
Analyst of Arab issues says Iran knows they have no business in Syria, Iraq, suggests eliminating Revolutionary Guard's terror leader.

Members of the Iranian Revolutionary GuardReuters
Zvi Yehezkeli, News 13's analyst for Arab issues, spoke to 103 FM Radio about the mysterious attacks in Iraq and Syria, which he believes will continue.
Last week, you said Israel should continue attacking Iranian bases in Iraq and Syria, and that's what happened. What's next? What will the next developments in the conflict with Iran be?
"It will continue, because we're not talking about specific attacks. We're talking about a country inching towards Israel's border, a country backed by a country with reserves – Syria and Iraq, which is behind Syria. It's a country with a Shiite messianic vision to come and defeat all Sunnis in the area, and they won't stop, so the attacks in Iraq are attacks at the eleventh hour. Israel saw the entrenchment and did it the moment they moved missiles which can attack Israel into Iran. The moment Iran has weapons which shift the balance, Israel attacks."
Will the Israeli attacks continue?
"As long as the Iranians are trying to move weapons to these areas. And because and in accordance with that, it can happen in Iraq also. And I wouldn't be surprised if it happens in other places where the Iranians are. It could also happen in Yemen. I'm looking at how the Iranians are preparing, at Qasem Soleimani, who heads the terror arm of the Revolutionary Guards and who is in Iraq, and at how he prepared for Israel to continue attacking – he evacuated bases, he hid weapons. The Iranians believe that Israel will continue attacking them."
Meaning that the Iranians are preparing for Israel's next attacks.
"Certainly. They feel frustrated and helpless, because they can't reach us, it's kind of an embarrassment. They aren't supposed to be in Iraq and Syria. That's why they're not avenging these attacks."
The Iranians are helpless because they don't know how to respond.
"Correct, on the one hand they are working to reduce damage, because they know that the attacks will continue, and on the other hand, when they continue moving missiles – every time they send a shipment to Syria, after a few hours they put their heads down and there was an attack."
You mentioned Qasem Soleimani. Isn't it time Israel or an emissary eliminated him? He's the snake pulling all the strings.
"It's time. Soleimani is a person with charisma who has made the Revolutionary Guards our neighbors in Iraq, Syria, and Yemen and who has conquered Lebanon. If he's not around, Israel will have it much easier. The question of his elimination has been raised a few times, by the Americans and by Israel – I don't know why a decision hasn't been made. If you ask me, quality eliminations could be carried out on only two people – Hassan Nasrallah and Qasem Soleimani. Nasrallah is hiding, Soleimani is still out there."
So you would suggest eliminating Qasem Soleimani.
"If they would ask me, I would say yes. Because part of the war is to get rid of missiles and harm the Revolutionary Guard's bases, I would hit the head of that arm of terror. I would do it."
Report: Saudi Arabia sought to assassinate Iranian officials
New York Times reports that close associates of Crown Prince Mohammed bin Salman met with group of businessmen, including an Israeli living in the US, asking them to examine possibility of assassinating senior Iranian officials, including Quds Force commander Soleiman, in effort to stop Tehran's nuclear program.
Saudi Arabia has examined the possibility of assassinating senior Iranian officials and to that end recruited the help of an Israeli national with intelligence background, the New York Times reported on Sunday.

According to journalists Mark Mazzetti, Ronen Bergman and David D. Kirkpatrick, Saudi intelligence officials with close ties to Crown Prince Mohammed bin Salman held discussions in March 2017 with a group of businessmen on the possibility of assassinating senior officials in the Iranian regime and military, including the commander of the Iranian Revolutionary Guards' Quds Force, Qasem Soleimani.
The meetings between the Saudis and the businessmen were organized by George Nader, a Lebanese-American businessman, who brought in an Israeli national living in the US, Joel Zamel, who has "deep ties" to Israel's intelligence and security agencies.
The two also enlisted the help of Erik Prince, the former head of the private security firm Blackwater, who later served as a Trump campaign advisor. According to the Times, Maj. Gen. Ahmed al-Assiri, the recently ousted deputy head of Saudi Arabia's General Intelligence Directorate, ran point for bin Salman in the meetings with the businessmen.
Inside sources told the Times that the Saudis inquired whether the businessmen could carry out the assassinations themselves. After consulting with their lawyers, the businessmen rejected the Saudi request. Nader did tell the Saudis that he knew a company based in London that might be willing to take on the assassinations. In addition, the Saudis also planned a $2 billion project to suffocate the Iranian in an effort to make Tehran abandon its nuclear program.
According to the report, the Saudis sought the approval of the Trump administration, as the project would have had major international repercussions on the international. Nader reportedly met with Trump administration officials several times to discuss the plan.
Qasem Soleimani Boosts Influence In Iraq, Strengthens Financial Cartel In Iran
July 26, 2019
---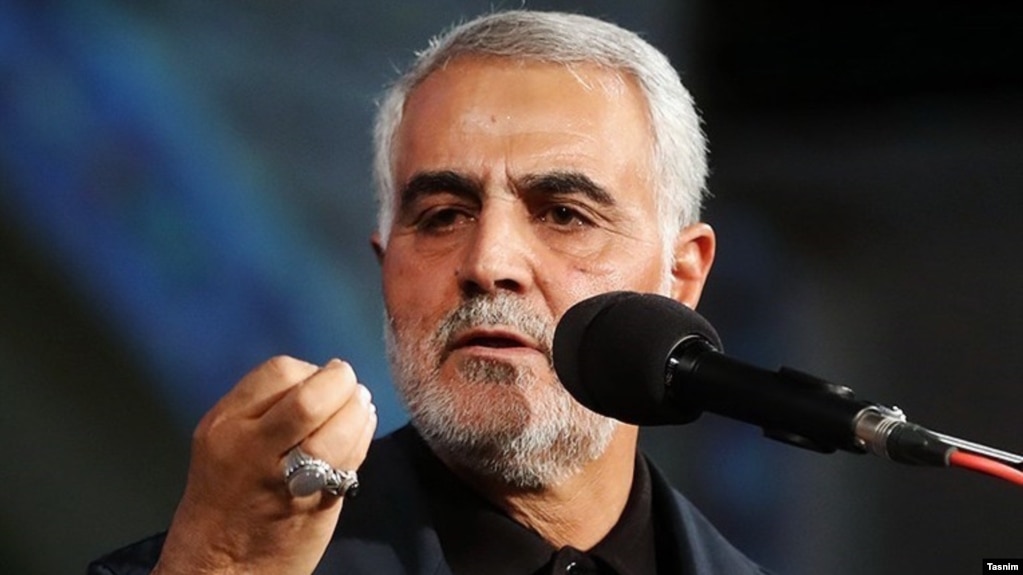 The commander of Iran's Quds Force, Qasem Soleimani, appears to be using a financial conglomerate in Iran to fund his activities in Iraq, establishing and extending Iran's long reach in the region.
Soleimani, who leads a ring of IRGC commanders and strongmen from his hometown province of Kerman, has appointed a new chief at the Headquarters for Reconstruction of the Holy Shrines in Iraq, the former mayor of Kerman Mohammad Jalalma'ab.
Meanwhile, Soleimani appointed the former chief of the headquarters, Hassan Polarak, another man from Kerman, as head of the headquarters' financial cartel in Iran, which among other things funds Soleimani's activities in Iraq. Polarak is also Soleimani's special assistant.
The headquarters has been active in Iraq since 2003, when it was established based on advice by Supreme Leader Ayatollah Ali Khamenei. There is no clear link between the HQ and the IRGC's Quds Force, although it operates under the aegis of the force.
In fact, Soleimani appointed the HQ's new chief in his capacity as the commander of the Quds Force. This indicates that the headquarters is operating as part of the Quds Force, a part of the Islamic Revolutionary Guards Corps that operates outside Iran, in Iraq, Syria, Yemen, and elsewhere. /**/ /**/ /**/ SEE ALSO: Who is Who IRGC Edition
Furthermore, Khamenei's office also exercises its influence on the HQ. Several of its officials have been directly or indirectly appointed by Khamenei's office. However, Polarak, a confidant of Soleimani's, has been running the headquarters for the past 15 years.
The headquarters' activities in Iraq have been officially defined as "religious and urban development activities in Iraq." It is active in various Iraqi cities including Najaf and Karbala, where major Shi'ite shrines are located. It also has an office in Syria that is tasked with the reconstruction of Shi'ite shrines in that country.
Some 3,000 Iranians are said to be working with the headquarters in Iraq.
Polarak and his son Hadi established Yeganeh Andish Sarmayeh Company in 2009 as the first step to building Soleimani's "private sector" financial enterprise.
The enterprise includes several other companies including a car manufacturing firm, an auto part importer, a poultry food production company, and a company that imports cosmetic products.
The Polaraks later handed over all these companies to the IRGC's financial conglomerate Yas Holding, which became well known following the revelation of major corruption cases in February 2018.
It is still not known whether removing Polarak from his post at the Headquarters for Reconstruction of Holy Shrines had anything to do with the corruption case.
Polarak has also worked as an adviser to Vice-President Eshaq Jahangiri for several months in 2016.
In a March 2016 report, Polarak said that the headquarters' annual budget was 500 billion tumans (roughly $120 million) adding that the HQ is going to carry out 3,000 billion tumans (around $720 million) worth of projects during the next six years.
These include 156 projects in Iraq and Syria, which indicates how widespread the headquarters activities are.
Various parts of the IRGC sometimes compete over the benefits of these projects. A $580 million project started by the HQ was finally grabbed by another part of the IRGC, the Khatam ol-Anbia, and was hurriedly opened before completion by Khamenei's Chief of Staff Mohammad Mohammadi Golpayegani in April 2016.
The development projects usually combine religious activities with tourism, placing hotels, restaurants, shops and parking areas next to refurbished shrines, making them a hub to assimilate funds.
Meanwhile, the HQ, receives some tens of thousands of dollars every year in donations and through selling souvenirs. In one form of donation, people buy a precious Persian carpet and donate it to HQ. The HQ puts the carpet on display for some time at a shrine, and then returns it to Iran and sells them at a much higher price as a sacred souvenir.
The Headquarters for Reconstruction of the Holy Shrines in Iraq runs a vast network across Iran and in Iraq to conduct transactions like this. However, it has been criticized at times for a lack of transparency in its financial transactions.