"Fuck me… who's style of Governance is modelling himself on? General Pinochet! … As long as Boris' cabinet know exactly where to go on their holidays!" 😀
'Cabinet from hell': Boris Johnson hires ministers who backed hanging, called feminists 'obnoxious bigots,' and opposed same-sex marriage
Opponents are accusing UK Prime Minister Boris Johnson of appointing a "Cabinet from hell" after he hired a home secretary who supported the death penalty, a deputy who has called feminists "obnoxious bigots," and four ministers who voted against legislation for same-sex marriage.
Shortly after becoming prime minister on Wednesday, Johnson conducted the most brutal cabinet purge in modern UK political history to reunite the team that won the European Union referendum campaign in 2016.
Three ministers in Johnson's new-look team have previously been sacked or forced to resign from the Cabinet in disgrace.
"This is a Tory Cabinet from hell, which Donald Trump or Nigel Farage would be proud of — with members that want to scrap the Barnett formula, privatize the NHS, roll back workers' rights, undo the welfare state, cut taxes for the rich, and even bring back the death penalty," the Scottish National Party's Pete Wishart said.
LONDON — Prime Minister Boris Johnson's opponents have accused him of creating a "Cabinet from hell" after he appointed a home secretary with a history of supporting the death penalty, a deputy who has called feminists "obnoxious bigots," and multiple ministers who voted against legislation for same-sex marriage.
Johnson, who became prime minister on Wednesday, conducted the most brutal cabinet purge in modern UK political history, as ministers who backed his rival Jeremy Hunt were thrown out of Cabinet.
He shocked Westminster by bringing in Dominic Cummings, the controversial campaign director who ran the Vote Leave campaign, while dominating his top team with prominent Brexit campaigners.
Pledging to deliver Britain's exit from the European Union by October 31, with "no ifs or buts," Johnson fired 17 Cabinet ministers and gave many top jobs to members of Parliament who had been involved in the Vote Leave team, handing Michael Gove the job of no-deal preparations as chancellor of the Duchy of Lancaster.
Priti Patel, the prominent Brexiteer who replaces Sajid Javid as home secretary, holds numerous staunch views, including a history of supporting the death penalty.
"I do think that when we have a criminal-justice system that continuously fails in the country and where we have seen murderers and rapists … reoffend and do those crimes again and again, I think that's appalling," she said in 2011.
"On that basis alone I would support the reintroduction of capital punishment to serve as a deterrent."
She later renounced her support for capital punishment in her role as international development secretary, a job from which she was fired in 2017 for holding a series of secret meetings with Israeli politicians during what she said was a family holiday.
Key Cabinet appointments
Boris Johnson, prime minister
Sajid Javid MP, chancellor of the Exchequer
Dominic Raab MP, foreign secretary and first secretary of state
Michael Gove, chancellor of the Duchy of Lancaster
Priti Patel, home secretary
Ben Wallace, defense secretary
Matt Hancock, health secretary
Patel is one of three new ministers who have previously been sacked from the Cabinet or forced to resign. New Education Secretary Gavin Williamson was sacked earlier this year following allegations that he had leaked sensitive information from a meeting of the National Security Council to a journalist.
Grant Shapps, the new transport secretary, was forced to resign as international development secretary in 2015 in disgrace in the wake of revelations that he had been aware of a bullying scandal in his role as party chairman before the death of one of its young activists.
Four Cabinet ministers — Gavin Williamson, Esther McVey, Andrea Leadsom, and Jacob Rees-Mogg — have voted against allowing same-sex couples to marry.
Dominic Raab, the new foreign secretary and first secretary of state — a role that will see him deputize for Johnson — also holds highly controversial views on women.
He said in 2011 that "men are getting a raw deal" and that "feminists are now amongst the most obnoxious bigots." He stood by that position earlier this summer by saying it was "really important that in the debate on equality we have a consistency and not double standards and hypocrisy."
The Scottish National Party said Johnson's new government was "shaping up to be the worst since Thatcher" and was "packed full of extreme Brexiteers and rabid right-wingers who want to drag us back to a bygone era."
"This is a Tory Cabinet from hell, which Donald Trump or Nigel Farage would be proud of — with members that want to scrap the Barnett formula, privatize the NHS, roll back workers' rights, undo the welfare state, cut taxes for the rich, and even bring back the death penalty," SNP MP Pete Wishart said.
The chairman of the opposition Labour Party, Ian Lavery, described Johnson's top team as "a cabinet of hardline conservatives who will only represent the privileged few."
He added: "We need a general election and a Labour government that will bring real change for the many, not the privileged few, which Johnson and his cabinet represent."
Boris Johnson's horror show: the Cabinet that Farage and Trump would be proud of
by Olaf Stando Share this article: 0 Facebook Share Twitter Share Whatsapp Share Facebook Messenger Share Print Share Email Share Linkedin Share Link Share Posted on 25 July, 2019 1 hour ago 4 min read
Boris Johnson has appointed an extreme, hard-right Cabinet that's shaping up to be the worst since Thatcher, with ministers who have supported the death penalty, said feminists were "obnoxious bigots", opposed equal marriage and supported ripping up the devolution settlement – overruling the Scottish Parliament and the will of the Scottish electorate in devolved areas.
Dominic Cummings' appointment as Johnson's senior adviser is a clear sign that Vote Leave have taken control of 10 Downing Street. They are allowing the extreme right of the Tory party into all the main offices of state – four senior Vote Leave figures are in five of the UK's most powerful jobs.
Here's a brief look at some of the ministers in Boris Johnson's "Cabinet from hell".
Sajid Javid – Chancellor of the Exchequer
Javid is a former investment banker who consistently called for more tax cuts for big corporations, while being a staunch supporter of Tory austerity that lead to a rise in child poverty and food banks. He will likely be tasked with implementing Boris Johnson's planned tax cut for the rich in England, Wales and Northern Ireland, subsidised by Scottish taxpayers.
As Home Secretary, he adopted a cruel stance towards migrants and refugees, vowing to "do everything we can to make sure that they are often not successful" – indeed, Amnesty International called out his position as a violation of international law, and his hardline anti-migrant attitude is highly damaging to Scotland's interests.
His contempt for Scotland is well-documented: during his Tory leadership bid, he pledged to "never allow" another Scottish independence referendum.
Dominic Raab – Foreign Secretary
The extreme Brexiteer, tax-slashing right-winger is the UK's new top diplomat.
His recent comments on feminists, food banks and the minimum wage, however, have been far from diplomatic.
Raab has recently defended his claim that feminists are some of the "most obnoxious bigots", and he sparked fury in 2017 when he said that most food bank users are "not languishing in poverty" and branded calls for more cash for the NHS as a "childish wish list"

.
This is a Foreign Secretary who didn't understand the importance of Dover and Calais for trade, didn't understand the Good Friday Agreement, and is prepared to throw Scotland's interests under a bus for his ideological obsession with the hardest possible Brexit.
Priti Patel – Home Secretary
The new Home Secretary belongs to the extreme-right end of the Tory Party, and is on record as supporting the death penalty.
Priti Patel was sacked in disgrace in 2017, after breaching the ministerial code by holding unauthorised meetings with Israeli politicians, business people and senior lobbyists.
She was a key backer of the "hostile environment" which lead to the Windrush scandal and made EU citizens feel unwelcome, and has a consistent record of voting against basic human rights protections – all of which suggests her appointment might lead to an even more toxic treatment of migrants by Westminster.
Gavin Williamson – Education Secretary
Merely 84 days after he was sacked for a major breach of national security with the Huawei leak, Williamson was inexplicably returned to the Cabinet by Boris Johnson.
His voting record reveals his true colours as an extremist, out-of-touch Tory: he voted to raise tuition fees in England and scrap the Educational Maintenance Allowance, in favour of repealing the Human Rights Act, and against same-sex marriage on numerous occasions.
Liz Truss – International Trade Secretary
Her staunch ideological support for cutting taxes for the very richest, as well as her obsession with cutting regulations and workers' rights, put the UK under threat of post-Brexit bargain-basement trade deals which would see Trump, Truss and Johnson carving up our NHS.
Jacob Rees-Mogg – Leader of the House of Commons
The new Leader of the House of Commons is someone who is prepared to shut Parliament to push through a damaging no-deal Brexit by October 31 – a move that would be nothing short of an attack on democracy.
And if that wasn't enough, the Trump-admiring, climate change denying, multi-millionaire cheerleader of austerity, has recently said he holds Nigel Farage "in the highest regard" – a clear proof of the Tories now being in hock to the Brexit Party.
Alister Jack – Secretary of State for Scotland
The new Secretary of State for Scotland has only been an MP since June 2017. He supports a no-deal Brexit. A Scottish Tory frontbencher told the Times, "the reason he is so popular with the UK party is because he invites ministers to his country estate".
Snakes, stupidity and sycophants: the horror of the Johnson cabinet
Difficult to know which is more distressing – Priti Patel as home secretary or Dominic Raab as foreign secretary. None of it gets any better from there …
Contact author @ladyhaja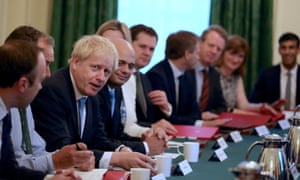 Another day, another horror. The new cabinet has met for the first time. Oh, and Boris Johnson has made his Commons debut as prime minister. Horrors plural, then. We're living in a Hammer film, my friends, but one looped over and over, where the protagonist enunciates only using vowel sounds and stuttering, and the plot is him wreaking revenge on a nation because he once lost a game of fives and has never gotten over it.
Here is all the action from the day. I am so, so sorry.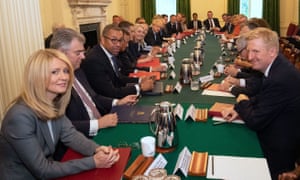 I swear to God this looks like the most awful dinner party of all time. This looks like a dinner party one would be personally offended to be invited to. The Guido Fawkes Twitter account described it as a "fantasy cabinet", which pretty much tells you everything.
I'm not saying this is a good practice – because it isn't – but you know how schools scheme to get all their lowest achieving students kicked out so that their table position isn't affected? This would be the lot that you'd round up and drive off the premises without even opening the gates. This is a cabinet thicker than the bubbling tar on today's roasting roads. This is a cabinet thiccer than Nicki Minaj.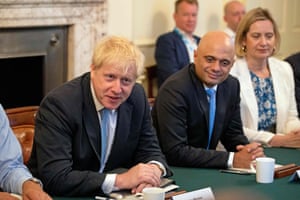 Advertisement
I hope Sajid Javid AKA Spock wearing a swimming cap is proud of himself. I hope the working-class, state-school boy is proud that he's now chancellor of an administration pledging to make things easier for the wealthiest and most comfortable in society. I hope he thinks about his choices in life. I hope he's thinking about them right now.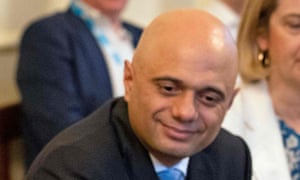 Sajid Javid thinking about his life choices right now.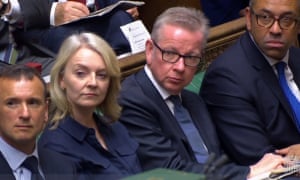 Michael Gove here, who judging by the redness of his face is either defecting to Labour or has been sitting in the garden in the searing heat. Be your sunburnt best. Cute though, that he and James Cleverly are holding hands, if only so that their affair can be uncovered and Sarah Vine can write her "most personal and explosive column yet", which she writes literally every single week.Advertisement
I can just imagine lots of heartrending pieces about her teen son, but not about the time the couple left him in a hotel room, a bit like when David Cameron left his daughter in a pub. That's the thing about Tories: their kids are like their morals, in that they're disposable.
Anyway, I'm not saying the past three years haven't been bad for all of us, but specifically bad for me, who had the indignity of being nominated for a prestigious Press Award, losing, and watching Vine win in a different category. It felt a bit like being punched in the face by excruciating prose.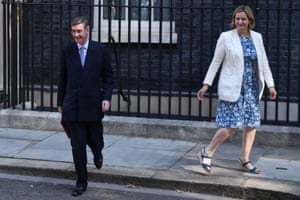 What this is is when you bump into a colleague that you hate leaving the office at the same time, and have to exchange a polite hello. You're both going the same way, but under no circumstances can you bear to spend another second in their company. So you are Amber Rudd, and you lie to Jacob Rees-Mogg that you forgot something and will have to pop back to your desk.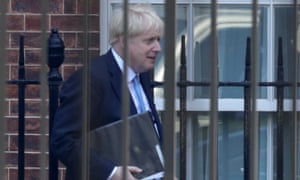 Advertisement
A vision of a future that could have been, had Johnson not avoided criminal prosecution over his £350m Vote Leave bus. I would recommend this clip of Ian Hislop on Have I Got News for You, talking about that particular case: "At the moment we're just at the preliminary stage about whether when he was a public official he was telling lies and therefore abusing his office. It's very similar to putting the Pope on trial and saying are you a Catholic? I would like him to have a fair trial, with a desirable result with him being imprisoned forever." But now he lives in No 10. Truly; this country.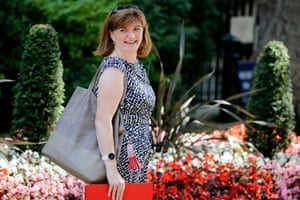 This is actually a really nice photo of Nicki Morgan, isn't it? It looks like the picture from a Chelsea flower show brochure. Or the promotional material showing off the communal gardens of a new development of flats. And by "communal" I mean only for the private owners and not the affordable tenancy holders, who are allowed to play with nearby drainpipes and I guess maybe the odd bollard. But really they should stay indoors, curtains closed.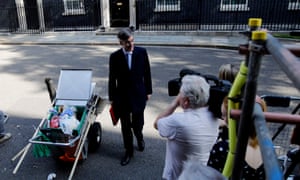 Here we have something with a garbage raison d'être and a street sweeping cart, in a joke that was far too easy to make.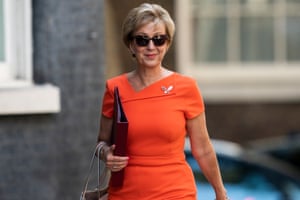 Andrea Leadsom here, auditioning for a role in a female remake of Ocean's Eleven, seemingly unaware that it was already made last year, and Cate Blanchett played a blinder. She looks great though. For a mother.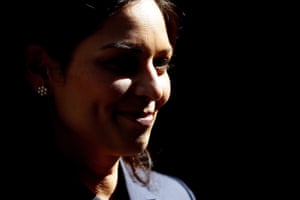 This is how Priti Patel should always be photographed, to portray the fact that she is Voldemort in a boxy jacket. A Priti name with an ugly ideology. A woman whose hobbies and interests on her Tinder profile are listed as: building Lego models of immigration dentention centres; cosy nights in chatting about reinstating the death penalty; and working holidays to Israel. As home secretary, Patel will be attending Cobra meetings, which is appropriate, cos she's a snake.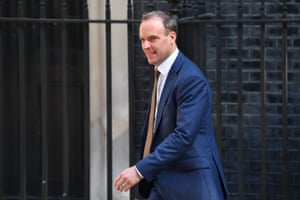 Dominic Raab here, looking as he will always look, which is a man cast as the latest Bond villain, before having to drop out because of his gross in-real-life behaviour. So here he is, having made the switch to horror. The endless, endless horror.