"Depopulation! 😀 Kill a few billion human beings, in order to save the rest from an inevitable catastrophe… possible extinction.
You can give the human population ALL the technological solutions it needs, you can suggest changes in their diet, how they produce food, and how they treat their environment… but we all know they will never adopt any of it or put it into practise… depopulation is the ONLY viable solution… … start with the fattest… the biggest consumers, biggest source of protein, slowest at running away and easier target to shoot."
July 12, 2019
Photograph Source: Carl Wycoff – CC BY 2.0
"The most destructive object on the planet… is the human jawbone." (Food or War, Cambridge University Press, 2019) pg 177
Whether by sight, taste, touch, feel, or smell, it's only too obvious that "food" affects every aspect of life and is key to crucial life-supporting ecosystems. Day-in, day-out, every living thing needs food.
Perchance, ecosystems cease to function, the human jawbone would plop open, and remain plopped open, gaping and, over time, morph into a zombie-like end game of people preying upon people.
All of which serves as a prelude to Julian Cribb's brilliance as an established and celebrated science writer, recipient of 32 journalism awards, and author of ten books, with a new "first-rate" book, now available via pre-order: Food or War.
It is an important book: "The world faces the greatest threat to global food supply in all of human history… There has never been a situation faced by the entire human population at one time to compare with today's." (pg. 62)
Cribb takes readers on a wild ride through human history with jolts along the way: "Most people who die in wars perish from hunger."
Food or War is not only a page-turner with Cribb's clear, precise prose, but as an added bonus, it's jam-packed, like a textbook, with significant facts and statistics about the biosphere. It belongs in the hands of people who deeply care about the deteriorating condition of our poisoned planet. Incidentally, based upon very compelling evidence, yes, it is poisoned.
Not surprisingly, food is the primary dynamic behind human conflict, "Since the dawn of civilization – and not merely its lack. Also its abundance." The great civilizations arose in fertile river valleys like the Nile where water and food were plentiful. (pgs 4-5)
But… "Time and again, the fertile regions of the world have spewed out great armies, bent on conquest, plunder and often, on the acquisition of fresh lands in which their people can flourish. But first they must displace or absorb the conquered."(pgs 4-5)
Nevertheless, of more immediate concern, Cribb poses a question that silently haunts our (collectively) reckless unenlightened naïve Age of Anthropocene: "Is Agriculture Sustainable?"
It's the single biggest question of the century and requires careful study. Cribb's explanation elicits pause: "The basics of the global food system, which today feeds seven to eight billion people, were developed by the ancient Romans. Their model of mono-crop, broadacre export agriculture has been taken up worldwide." (pg. 86)
Continuing… Food is the product of an "Iron Age system" yet super-charged and propped up by the addition of recent high-intensity technologies, chiefly chemistry, fossil fuels, and biotechnology. And, knowing there are devils lurking in the details, fatal flaws are exposed, by the bucketful, especially in light of an already crippled, hobbling biosphere, as Cribb's says: "The overheated, over-populated, over-exploited planet."
Unquestionably, the Iron Age system is increasingly looking shaky, especially in the face of not only an over-populated biosphere, but that same biosphere is undergoing earth-shattering changes that scare people and force eco migrants to flee across assorted landscapes, e.g., erratic climate behavior, loss of precious soil, water scarcity, and chemical pollution, as well as the onset of collapsing ecosystems for the first time in human history, as for example, the loss of 75% of flying insects from Germany's skies. What's responsible for killing flying insects, en masse, in over 60 "protected" nature reserves?
Recently, a key study, EAT-Lancet Commission/2019, issued a "highly authoritative warning" to the world at large: Even though food systems can potentially nurture health and also support environmental sustainability, "they are currently threatening both."
That's a mouth-dropping warning that's difficult to fathom, especially with knowledge that the flawed food system is not properly analyzed for public consumption in the first instance. Food or War corrects that egregious failure to "level with the public," and it does so in wonderful style, even when dealing with thorny issues.
The modern food system is broken and needs fixing. It endangers human health and destroys ecosystems. As such, agricultural experts claim "business as usual" for farming is no longer a viable option. Rather, it must, must, must change: "We must take a more ecological approach." (pg. 88)
Along those lines, Cribb quotes Dr. Jane Goodall, the world-famous anthropologist: "Someday we shall look back on this dark era of agriculture and shake our heads. How could we have ever believed that it was a good idea to grow our food with poisons?" (pg. 93)
Unbelievably, more than 2,000 and 4,000 different chemicals and pesticides are used in farming, and more than 2,500 chemicals are intentionally added to foods to modify flavor, color, stability, texture, and costs. Many, if not most, of these chemicals over the decades have not been properly analyzed for toxicity to humans.
In the final analysis, modern industrial chemical farming cheats Mother Nature. But, she's almost gone anyway!
As a result, the scientific literature is crammed full (thousands) of telling studies, "with mounting evidence," that chemicals are implicated in a global pandemic of (1) cancers, (2) brain damage, (3) sexual dysfunction, (4) allergies, (5) hormonal and developmental disorders on a level of which humanity has never experienced.
Little wonder that human health care costs skyrocket. Given enough time, the costs volcanically erupt based upon years and years of pent-up accumulation of chemicals lodged in human tissue, finally becoming one more statistic of our peculiar modern-day human tragedies, crippling illnesses and over-populated care centers.
Most American families have at least one family member confined to a care center or under 24/7 home care.
Additionally, nearly every American family has someone with cancer and/or sexual dysfunction, as both ailments standout, if only because billions upon billions are spent annually on each ailment, in fact, record amounts of money spent for bizarre treatments and powerful drugs to live long enough for adolescent intimacy, all over again.
Meanwhile, male sperm count (fertility) throughout much of the developed world has fallen off a cliff, in free-fall, down by as much as 60%, which may be a blessing in disguise. But that's another subject for another time. Still, why the steep falloff, which is accelerating, by the decade?
Ipso facto, the unthinkable could happen (but, on second thought, not so unthinkable) as chemically-induced men run out of ammunition, no more fire power.
"The Earth is now subject to a universal chemical bombardment, a macro-scale version of the destruction of the forests and rice paddies of Vietnam in the US 'Agent Orange' campaign of the 1970s. The job of most farm chemicals is to kill something — whether it is an insect or a plant — and their dispersal through the global environment ensures that many non-target species, including people, birds, frogs, honeybees, and soil micro-organisms, are killed, injured or have their reproductive neurological and developmental systems damaged," (pg. 100)
Today's version of industrial farming with its monocroping produces vast fields of green for as far as the eye can see in perfectly aligned slick rows embedded in "sick soils" where microbial activity is so low that nutritional value is negligible, lacking minerals, vitamins, proteins, and, worse yet, with low antioxidant qualities because there are not enough microbes in the soil to release them.
That's the antithesis of how humans, over the centuries, evolved as strong and powerful creatures, eventually growing into a force more powerful than the biosphere itself, forever thereafter dominate as the infamous "human footprint."
"While not solely responsible, the modern industrial food system is, nonetheless, a major contributor to a universal web of toxicity… that hardly existed three generations ago and previously, did not exist at all for the entirety of human history… Farm chemicals… have become a significant threat to life on the planet," (pg. 99)
It's the greatest paradox of all time.
Postscript: "If the pathway to war, government failure, or the collapse of a civilization can be thought of as a series of dominoes, collapsing one upon another, the fall of the food domino and the climate domino lie very early in the sequence and have irresistible impact and consequences." (Julian Cribb)
Eight ways to halt a global food crisis
July 8, 2019 2.38pm AEST
Author
Michael Hamm Oxford Martin Visiting Fellow, University of Oxford
Disclosure statement
Michael Hamm does not work for, consult, own shares in or receive funding from any company or organisation that would benefit from this article, and has disclosed no relevant affiliations beyond their academic appointment.
Partners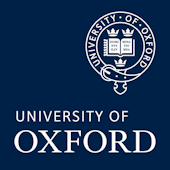 University of Oxford provides funding as a member of The Conversation UK.
There are serious challenges to global food supply everywhere we look. Intensive use of fertilisers in the US Midwest is causing nutrients to run off into rivers and streams, degrading the water quality and causing a Connecticut-size dead zone in the Gulf of Mexico. Chocolate production will soon be challenged in West Africa – home to over half of global production. A variety of nutritional impacts are predicted due to increased atmospheric carbon dioxide – including decreased protein content in food, which has a potential to exacerbate malnutrition. And this is just a very small sample of the risks to the food supply chain that are foreseen.
The future of food then, may sound rather bleak. But this does not have to be the case. The food system could become part of the solution for environmental challenges, if we make some changes to it. It could also be an instrument of human health, well-being, dignity, and livelihood – rather than the opposite.
But this won't happen without a radical rethink of our food systems and consumption patterns across the globe – particularly within the context of our cities. Upwards of 75% of the global north's population is urbanised and the global south is rapidly moving in this direction. Strategies for how these city regions can be fed using more local resources are crucial.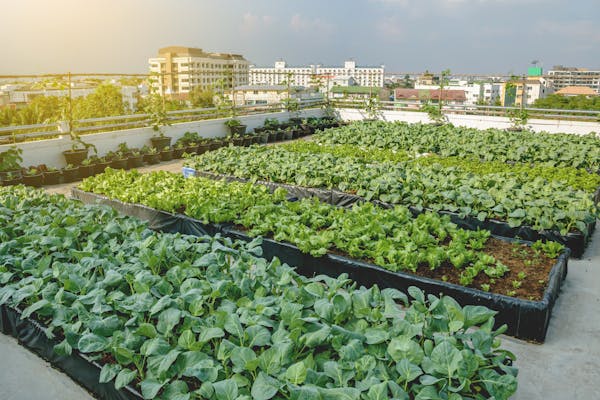 Those living in the urban global north are very comfortable with having any foods desired available at any point across the calendar year. This comes at a high cost. Foods transported by air cause nearly four times the CO₂ released compared to truck and 38 times that of a comparable amount transported by rail. Biodiversity and ecosystem loss threatens food production – and meanwhile, agriculture is a key driver of this loss. Furthermore, excessive water use for export agriculture in water-stressed areas can negatively impact local food and livelihoods – for example to secure large quantities of avocados for global north markets.
If we are to avoid some of these crises, we need to re-imagine where our food comes from and move, at least in part, towards more seasonal diets with a lower use of land and a serious reduction in global trade – especially for fruits, vegetables, and protein.
We can do all of this by addressing eight factors that have exacerbated and reinforced environmental disasters in our food systems.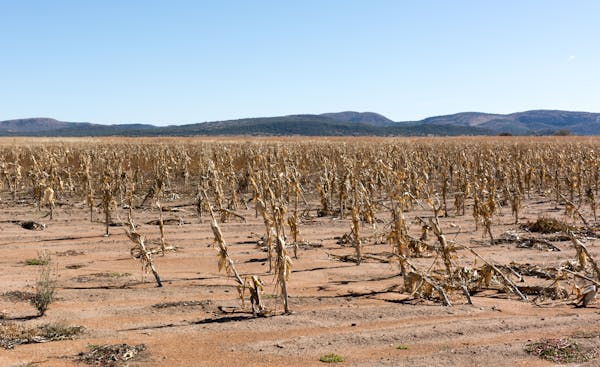 1. Dietary patterns
It is especially important that meat consumption and excess calories in countries with high levels of meat consumption and obesity are reduced. Consuming far less meat provides the greatest ability to feed more people with less land within the US, for example, where meat consumption is particularly high. Every global study of diet and greenhouse gases indicates that reduced meat consumption is the biggest driver of reducing greenhouse gas release via dietary change. Approximately 1.1m hectares of excess corn production are needed to produce the excess calories consumed by just Americans annually.
2. Production practices
Greater organic and agroecological strategies should be prioritised over highly industrialised farming practices. These forms of farming use much less fertiliser – which is not only bad for biodiversity but also produces high emissions. In 2011, agriculture in my home state of Michigan collectively purchased about 200,000 metric tons of nitrogen fertiliser at a CO₂ cost of 1.34 million metric tons (the equivalent of that produced by 291,000 US cars in a year). Meanwhile, organic bread wheat production in the UK appears to use less energy per ton than conventional production, with very little of it accrued from nitrogen fertiliser production and use.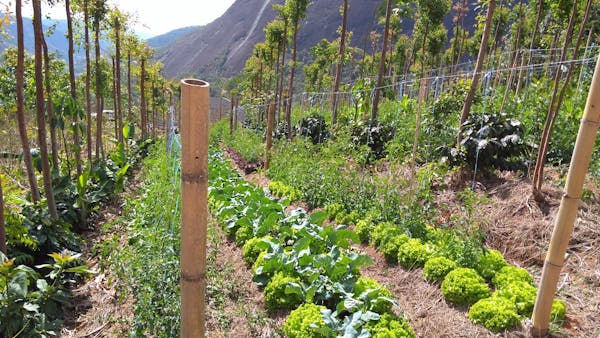 3. Supply chains
Large quantities of food are needed for any city region – an American city region of a million people will require about 900m kg of food annually. Although "food miles" are problematic as a discriminator for greenhouse gas release, shorter supply chains are probably more amenable to electric vehicle transportation than long-distance transport – and hence ultimately to renewable energy use. As such, cities should aim to source their food from the surrounding region rather than globally. Within city regions it should also be possible to use waste recycling more robustly, creating carbon cycles as well as biogeochemical cycles for plant nutrients such as phosphorus and nitrogen. Since phosphorus is essential and non-renewable while production of nitrogen fertilisers requires a great input of energy this is very useful.
4. Food waste
Although food is lost throughout the supply chain, it's estimated the greatest losses occur at the consumer level in the global north. In addition, a large amount of produce is wasted for not meeting retail cosmetic standards. All of the energy towards production, transportation, and processing of this food is also wasted. This modern culture of waste must be addressed.
5. Concentrated production
Some crops are grown in an intensely concentrated manner, which leaves them vulnerable to climate changes and pests. For example, over half of US fresh produce and nuts are grown in California, and a number of these crops will be negatively impacted this century. While there is research to develop more draught and heat tolerant varieties across a range of crops it also seems prescient to distribute production more broadly. Variations in weather patterns can make this a challenge. But structures such as poly tunnels can markedly expand the season – to 12 months for lettuce and an additional two-to-three months for tomatoes. And a number of crops, for example apples, can be stored fresh for several months with controlled atmosphere storage.
6. Reward structures
Making negative effects (or costs) of production (such as soil loss) transparent so that all costs are accounted for and then rewarding farmers for things such as soil carbon sequestration, minimised external inputs, and low energy use instead of just total production would greatly help reduce these impacts.
7. Future protein sources
The idea of farming insects and jellyfish are just some examples of the innovative suggestions that have been made for diversifying protein sources beyond meat and, say, soya. This would allow for reduced levels of animal protein in the global north and increased levels in much of the global south.
---
8. Public policy
Very little of the global north's enormous farm policy budgets tend to be spent on policies such as conservation, agroecological research, and organic production. Policies that stimulate new farmer development, regional market and supply chain development (such as food hubs), prioritise appropriate technology development at smaller scales and price points (including robotics), sustainable energy production and research to minimise external inputs while maintaining high productivity are needed in order to help propel their development.
All in all, much more attention needs to be paid on the sustainability of the planet's urban food systems. If the situation continues unchanged, our food supply chains will soon be in deep trouble.
World's food supply under 'severe threat' from loss of biodiversity
Plants, insects and organisms crucial to food production in steep decline, says UN
Jonathan Watts Global environment editor @jonathanwatts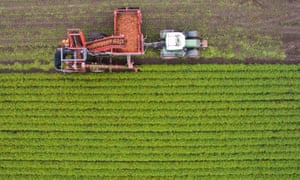 The world's capacity to produce food is being undermined by humanity's failure to protect biodiversity, according to the first UN study of the plants, animals and micro-organisms that help to put meals on our plates.
The stark warning was issued by the Food and Agriculture Organisation after scientists found evidence the natural support systems that underpin the human diet are deteriorating around the world as farms, cities and factories gobble up land and pump out chemicals.
Over the last two decades, approximately 20% of the earth's vegetated surface has become less productive, said the report, launched on Friday.
It noted a "debilitating" loss of soil biodiversity, forests, grasslands, coral reefs, mangroves, seagrass beds and genetic diversity in crop and livestock species. In the oceans, a third of fishing areas are being overharvested.
Many species that are indirectly involved in food production, such as birds that eat crop pests and mangrove trees that help to purify water, are less abundant than in the past, noted the study, which collated global data, academic papers and reports by the governments of 91 countries.
The species most frequently reported to be under threat are plants, birds, and fish and fungi. Pollinators, which provide essential services to three-quarters of the world's crops, are under threat. As well as the well-documented decline of bees and other insects, the report noted that 17% of vertebrate pollinators, such as bats and birds, were threatened with extinction.
Once lost, the species that are critical to our food systems cannot be recovered, it said. "This places the future of our food and the environment under severe threat."
"The foundations of our food systems are being undermined," wrote Graziano da Silva, the director general of the Food and Agriculture Organisation, in an introduction to the study. "Parts of the global report make sombre reading. It is deeply concerning that in so many production systems in so many countries, biodiversity for food and agriculture and the ecosystem services it provides are reported to be in decline."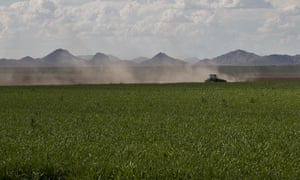 Agriculture was often to blame, he said, due to land-use changes and unsustainable management practices, such as over-exploitation of the soil and a reliance on pesticides, herbicides and other agro-chemicals.
Most countries said the main driver for biodiversity loss was land conversion, as forests were cut down for farm fields, and meadows covered in concrete for cities, factories and roads. Other causes include overexploitation of water supplies, pollution, over-harvesting, the spread of invasive species and climate change.
The trend is towards uniformity. Although the world is producing more food than in the past, it is relying on ever-expanding monocultures.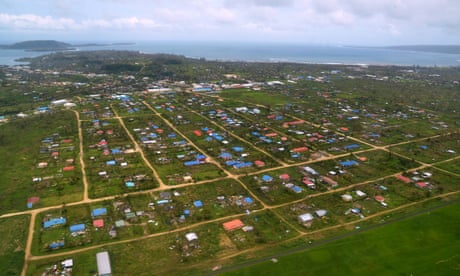 Two-thirds of crop production comes from just nine species (sugar cane, maize, rice, wheat, potatoes, soybeans, oil-palm fruit, sugar beet and cassava), while many of the remaining 6,000 cultivated plant species are in decline and wild food sources are becoming harder to find.
Although consumers did not yet notice any impact when they went shopping, the authors of the report said that could change.
"The supermarkets are full of food, but it is mostly imports from other countries and there are not many varieties. The reliance on a small number of species means they are more susceptible to disease outbreaks and climate change. It renders food production less resilient," warned Julie Bélanger, the coordinator of the report.
As examples, the report noted how overdependence on a narrow range of species was a major factor in the famine caused by potato blight in Ireland in the 1840s, cereal crop failures in the US in the 20th century, and losses of taro production in Samoa in the 1990s.
"There is an urgent need to change the way food is produced and ensure that biodiversity is not something that is swept aside but is treated as an irreplaceable resource and a key part of management strategies," said Bélanger.
The report found evidence that attitudes and practices were slowly changing. In recent years, there has been a greater uptake in sustainable forest management, ecosystem approaches to fisheries, aquaponics and polyculture. But the authors said there had been insufficient progress. Organic agriculture, for example, now covers 58m hectares (143m acres) worldwide, but this is only 1% of global farmland.
The report signalled a heightened interest by governments in biodiversity, a subject that rarely gets the same attention as climate change. Many states reported economic losses caused by disappearing or shifting ecosystems. Ireland, Norway, Poland and Switzerland noted shrinking bumblebee populations. Egypt was concerned that its fishing industry would suffer because fish were migrating northwards due to rising ocean temperatures. Gambia said communities were being forced to buy expensive industrially-produced products because free wild food sources were becoming scarcer.
The biodiversity crisis is set to rise up the global agenda, with discussion on the topic at the next G7 in April, a World Conservation Congress in June, and then a major UN conference in Beijing next year.
"Around the world, the library of life that has evolved over billions of years – our biodiversity – is being destroyed, poisoned, polluted, invaded, fragmented, plundered, drained and burned at a rate not seen in human history," Ireland's president, Michael Higgins, said at a biodiversity conference in Dublin on Thursday. "If we were coal miners we'd be up to our waists in dead canaries."