"As a country in such a fragile region of the world, you would think that Israel would very quickly move towards energy independence, and towards being able to produce 100% of its own electricity and then move towards electric transportation so that it can be politically and economically independent of fossil fuel exporting countries. It does not make sense to me that Israel depends on fossil fuel exporting countries, it's suicidal." – Christiana Figueres, former Executive Secretary of the U.N. Framework Convention on Climate Change

"given the current situation with global terror funded by Arab oil money, this book should interest political wonks as well as science geeks. The author never touches this particular implication of long-term defunding of terrorism by abandoning oil, but astute readers will see it immediately." – Luke Setzer
I think it's fucking crazy that 21st century Israel is still relying on oil producing nations for it's energy supply… HELLO! 🙂

Hydrino energy is an energy source that essentially 'reinvents' electricity, makes the combustible engine obsolete… it's clean, safe, inexhaustible and produces extraordinary power density never before witnessed in nature (excluding nuclear detonations).

Fossil fuels, nuclear, renewables (solar, hydro, wind etc.), all known forms of energy production… RENDERED OBSELETE!

A shit load of people stand to lose… fucking Arabs, Iran, Russia, a few African countries, the US petro dollar and military complex… a few British, American and European 'families'… but Israel doesn't really stand to lose anything (quite the opposite!).

The Americans (and CIA) own the patents, most likely have twenty plus years experience with this theory of physics… but there's not many countries in the world that can tell the US to fuck off… in fact Israel is probably the only one! 😀
…………………./´¯/)
………………..,/¯../
………………./…./
…………./´¯/'…'/´¯¯`·¸
………./'/…/…./……./¨¯\
……..('(…´…´…. ¯~/'…')
………\……………..'…../
………."…\………. _.·´
…………\…………..(
…………..\………….\
Mills is a genius, the type of mind that appears in a population of 7 billion goyim, once every few hundred years or so… he's single handily dragged physics out of the dark ages (Quantum), and no-ones taken any notice… … we put our best minds to work on this now, we get our children to grasp this now, taught in schools and Universities… we'll be way ahead of the curve (including America)… Russia, China, Europe… possible a generation ahead of them in terms of scientific understanding and discovery.

(like everything else in nature… it can be weaponised!)
Israel's Approach to Energy Is Suicidal, Says Former Head of U.N. Framework on Climate Change
Christiana Figueres, who led the negotiations of the Paris Agreement, believes Israel should strive more to produce renewable energy and rely less on the import of fossil fuels
Omer Kabir
Israel's approach to renewable energy is suicidal, Christiana Figueres, the former Executive Secretary of the U.N. Framework Convention on Climate Change (UNFCCC), said in an interview with Calcalist in May.
"As a country in such a fragile region of the world, you would think that Israel would very quickly move towards energy independence, and towards being able to produce 100% of its own electricity and then move towards electric transportation so that it can be politically and economically independent of fossil fuel exporting countries," Figueres said. "It does not make sense to me that Israel depends on fossil fuel exporting countries, it's suicidal."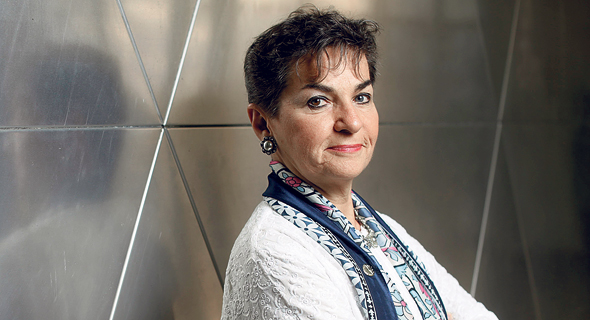 Christiana Figueres. Photo: Amit Sha'al The cost of producing solar energy is close to that of fossil fuels, according to Figueres, who previously led the negotiations of the Paris Agreement, which entered into force on 4 November 2016. A situation in which countries refuse to export fuel to Israel is not unlikely, so the country should really strive to produce more of its own energy, Figueres said. Israel can reach at least 70% independence, if not 100%, she said. While there is some sustainable and solar energy being produced in Israel, the country is capable of producing substantially more, Figueres said. In 2009, Israel set a target of achieving 5% green electricity by 2014, and 10% by 2020. As of May 2019, it is behind on its goal, barely scraping by at 6.5%. "If there is a state with sun, it is Israel," she said.
As a general rule of thumb, all governments need to provide sustainable energy incentives and to work towards better public transportation and power-based transportation that uses clean energy sources, Figueres said.
School-Age Education May Offer Best Hope for Israel's Tech Talent Crunch, Says Report
Israel's tech industry is already tapping most of Israel's existing highly skilled workers, casting doubt on the viability of various incentive programs intended to draw more people to the sector, according to a new report by the Taub Institute for Social Policy Studies
Lilach Baumer
Improving school-age education may be the best, and perhaps the only viable solution for Israel's tech talent crunch, according to a new report published by Jerusalem-based think tank the Taub Institute for Social Policy Studies. Offering a comprehensive look at 2019 Israel, the report's authors examined many aspects of Israeli society and economy, paying special attention to its tech industry, widely regarded as Israel's most powerful growth engine.
Tech workers make up 8.2% of the Israeli workforce—the highest percentage among OECD countries and high above the OECD average of 3.7%. They account for a quarter of tax income payments, and around half of the country's exported production. They also receive nearly 2.5 times the average market wage, boosting Israel's overall GDP and productivity.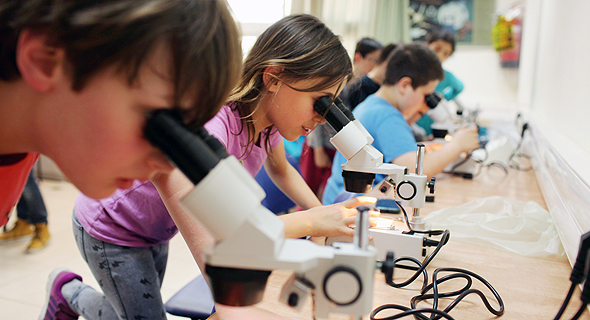 Biology students, Israel. Photo: Amit Sha'al

But as more and more multinationals flock to Israel in search of innovation and cutting-edge technologies and local startups pop up like mushrooms after the rain, Israel's most attractive resource—its human talent—is reaching its limit. The country is missing around 10,000 skilled personnel according to official estimates, and tech employment rates have remained steady for the last decade despite an ever-increasing demand. Awareness of the problem has led Israel to launch various programs intended to ameliorate the situation, some intended to help adults gain relevant skills to make the shift into tech, others offering benefits to companies willing to open locations outside of the country's tech-heavy center. Efforts are also being made to increase the participation of minority groups such as women, Arabs with Israeli citizenship, and ultra-Orthodox Jews, under the assumption that the main group of tech workers—non-religious Jewish men—is mostly tapped out. But the Taub Institute's report is pointing out a major flaw in these programs: most adults with the necessary skill and talent needed to work in the tech industry are already employed in it. The institute is relying on the Programme for the International Assessment of Adult Competencies (PIAAC), the OECD's skill survey. The survey measures adult proficiency in key information-processing skills such as literacy, numeracy, and problem-solving (and in Israel, also English), and splits people into five levels accordingly. According to PIAAC, the gap in skill between tech employees and other-industry employees is much wider in Israel than in other OECD countries. Furthermore, in Israel, those in the top 20% of skills that are not already employed in the tech industry are much more likely to be employed in similarly well-paying jobs, making the possibility of a career pivot less probable for them. As a result, while Israel may on the surface have a wide pool of work-age adults to draw from, most of those adults will lack the necessary skills to succeed in the tech industry even with re-training, the Taub Institute concluded in its report. Israel's best hope in boosting its tech talent pool in the future is an investment in school-age education, and especially in the education of groups lower on the social economic scale, the report's authors stated. Special emphasis should also be paid to increasing English skills, according to the Taub Institute: the Israel part of the PIAAC concluded that without English proficiency of some level, odds of tech employment dwindled to nearly zero in Israel. According to the report, there are already several positive signs when analyzing current educational trends.
Since 2012, when a special incentive program was put into motion by the Israeli Ministry of Education, the number of students choosing to take high-level English and mathematics courses has seen a continuous rise. The percentage of students graduating with a high school diploma is also consistently growing. While Israeli students still score below the OECD average on international surveys as PISA, TIMSS, and PIRLS, Israeli scores are improving at a faster rate than the OECD average. On almost all metrics (including tertiary education), Israeli female students have shown greater improvement than male students. It is also worth noting that while current school-age education trends in Israel still mostly correlate with socioeconomic status, among Arabs with Israeli citizenship, Druze, and Bedouins—all groups lower on the socio-economic scale on average—educational improvement has in recent years been progressing much faster than among Jewish students of lower economic status.
With Tech Talent Too Expensive, Israeli Startups Look to High School
The ever-increasing demand for tech talent in Israel—and the continuous rise in salaries that inevitably follows—is pushing startups to look for creative solutions for their human resource woes
The ever-increasing demand for tech talent in Israel—and the continuous rise in salaries that inevitably follows—is pushing startups to look for creative solutions for their human resource woes. Lately, they have been looking to high schoolers. Calcalist has recently learned of several early stage startups that have started hiring students majoring in cyber or computer studies as minimum wage employees.
These high school students are gradually taking the place of the previous favorite targets of tech HR personnel: recent graduates of the Israeli military's intelligence and cyber units. Five years ago, fresh talent straight out of mandatory Israel Defense Force service would have set a startup back by NIS 20,000-NIS 25,000 (around $5,560-$7,000) a month. Today, they are commanding monthly wages of NIS 30,000 (around $8,400) or more. In Israel's current tech hierarchy, only established startups that have already raised a few tens of millions of dollars can afford such salaries.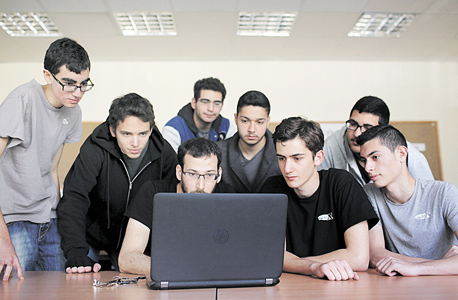 Cyber students, Ramat Gan. Photo: Amit Sha'al

At the head of the pyramid are the research and development centers of giant multinationals such as Google, Amazon, and Facebook, which have seriously unbalanced the local market in recent years with the resources at their disposal. A senior executive at a mid-size Israeli tech company, speaking to Calcalist on condition of anonymity, recounted an offer one of her employees received from Google: the rival contract, she said, offered to double that employee's salary, from NIS 40,000 ($11,100) a month to NIS 80,000 ($22,200). While such salaries are still an outliner reserved for top talent, "regular" monthly wages of NIS 40,000-NIS 50,000 ($11,000-$14,000) would still burn much too quickly through the modest funds of early stage startups. Some of the young startups interviewed for this piece have said that high schoolers command, at least initially, the minimum monthly wage of NIS 5,300 (almost $1,500). If they don't enlist immediately but rather defer their draft in order to attend university prior to service, their monthly salary can jump to around NIS 15,000 ($4,170). "The more we interviewed candidates and heard their salary expectations, the more we understood that we couldn't carry those expenses," Mirit Kagarlitsky, co-founder and CEO of cybersecurity startup Wenspire Ltd., told Calcalist in a recent interview. Wenspire, which develops application programming interface (API) security and analytics products, was founded in 2018. "We started to understand we needed to think outside the box," Kagarlitsky said. A high school near her residence in Ramat Gan, a town adjacent to Tel Aviv, offered its students the opportunity to major in cyber. Study concentrations like this one cater to teenagers who want to learn how to code. "We interviewed a few seniors and recruited them, and it proved successful," she said. "Their work is of higher quality than some BSc graduates." High schoolers are good employees mostly for short-term projects that can be completed by the time they enlist, Kagarlitsky said. One such student spent his five months of employment programming a demonstration of the company's system. Since she has first thought of the tactic, the idea has spread, Kagarlitsky said, and now both she and other entrepreneurs around her are being actively approached by students and parents for potential employment opportunities. Other startups, jaded by expensive IDF veterans, have also set their sights on high schoolers. Alongside young companies like Wenspire, more mature startups operating in the cybersecurity domain—where the talent crunch is especially dire—have begun tapping high schoolers. Among those who confirmed teen employment on record are XM Cyber, a cybersecurity startup co-founded in 2016 by retired Mossad Director Tamir Pardo; Tel Aviv-based virtual container security startup Aqua Security Software Ltd., founded in 2015, which had already raised over $100 million in equity; and computer and network security startup Cympire Ltd., founded in 2017.
According to a recent report prepared by Tel Aviv-based research firm IVC Research Center Ltd. for the Israel National Cyber Directorate, the country's cyber sector alone suffers a deficiency of around 800 employees. The majority of managers interviewed by IVC, 90%, named employee recruitment as their biggest difficulty and the largest barrier to growth. According to the report, half of the cyber startups currently active in Israel—367—were founded in the past five years. New startups in the domain are being established at a staggering rate, leading founders to sometimes settle for lower quality employees, the report's authors wrote. Job-hopping is already prevalent in the tech industry, Kagarlitsky said, meaning the short employment potential of high schoolers does not pose a significant problem, though of course, most startups would prefer their young employees defer their army service and continue working throughout their academic studies. It is a win-win situation, she said: the students receive a chance to gain real-world experience on development projects, while startups receive coders that absorb knowledge at an astronomical rate and are incredibly motivated. While so far only a few dozen startups have jumped on the bandwagon, local early stage venture funds are already aware of the trend. In every startup, the founders and key employees draw high salaries and that is okay, Arik Kleinstein, co-founder and managing partner at Glilot Capital Partners, told Calcalist in an interview. "The problem begins when you need a few dozen base level programmers," he explained. "That is when expenses start to pile up, and you need to find solutions to conserve your capital." Another high school talent pool, one that has existed for longer, is coding competitions, Kleinstein said. Winners at competitions such as Code Guru often receive job offers from tech companies—at higher salaries than just the minimum wage.