"What the fuck else can I say? GUTCP is the biggest scientific discovery, the most innovative and revolutionary scientific discovery, the most disruptive scientific discovery… by far the most important scientific discovery… in the history of human civilisation… physics has been fundamentally wrong since 1926 … we need 'EVERYONE' in Israel behind this!" :I
Israel: a medtech innovation hub for the world
By Chris Lo
Israel has long been renowned as a hub for high-tech innovation, with an active investment scene and spinout-friendly research centres helping to push the country's medtech sector to new heights. What are the secrets behind the outsized performance of Israeli med tech in recent years?
In the late 90s, Toronto native Dr Morry Blumenfeld was mulling the prospect of retirement after 35 illustrious years at GE Medical Systems – now GE Healthcare – during which he had been instrumental in the launch of the company's computed tomography (CT) and magnetic resonance imaging (MRI) businesses. A well-earned retirement beckoned, but instead Blumenfeld was persuaded to move to Israel and run GE's operations in the country. What he saw there was a revelation.
"When I came here, I realised I had been in start-ups all my life, and I just didn't call them start-ups," he says. "Here, they were definitely called start-ups."
As early as 1999, during Blumenfeld's early years in Israel, he was struck by the ambition and entrepreneurial boldness of the ideas he was seeing. He recalls one particularly remarkable project to develop a miniature MRI system that could be placed inside the carotid artery to detect vulnerable atherosclerotic plaques that could lead to cardiac arrest and stroke.
Given that vulnerable plaques had no treatment at the time even if detected, Blumenfeld questioned why they didn't focus on something like, say, a flashlight-sized imaging system that could inform a surgeon whether or not they had removed the full extent of a tumour.

"Oh, that would be much too easy," he was told.

"This group of course went bankrupt," he says now. "But the same guys – and this is characteristic – they said, 'Okay, we learned something here, now we're starting something new.' That's what happens again and again [in Israel]; we see a lot of people who have brought something to some level, they're either successful or they failed, and either way they want to start something new."
Israel's medtech sector: the innovation nation
Blumenfeld's early impressions will come as no surprise in the self-styled 'start-up nation', more recently rebranded as the 'innovation nation'. The country ranked fifth in Bloomberg's 2019 Innovation Index, leapfrogging the likes of Japan, Sweden and the US since last year's list, while taking the top spot in the category of research and development (R&D) intensity, having spent $12.7bn annually (4.3% of total GDP) on R&D.
The life sciences sector, and medical technology in particular, ranks high on the list of Israel's most developed and entrepreneurial industries, buoyed by a host of beneficial factors, including proactive and spinout-friendly academic institutions, a prevalent start-up culture and supportive policy from a government that is keen to maintain and build upon the country's reputation as an innovation and investment nexus to rival Silicon Valley and Europe's most prestigious tech hubs.
"I think there are about 1,200-1,500 start-ups in the medical field in Israel," Blumenfeld says. "It's just amazing."
The result is an outsized medtech sector that has seen Israel disproportionately represented on the global medical device stage, bringing innovative technologies to the world, from Given Imaging's PillCam imaging capsule to ReWalk Robotics' wearable robotic exoskeleton.
Medtech financing in Israel
Israel is also highly fertile ground for medtech financing, with $473m of capital raised by medical device firms in 2017, and another $254m raised in the fields of healthcare IT and diagnostics, according to Israel Advanced Technology Industries' June 2018 Life Sciences Industry Report.
Global medical firms including GE Healthcare, Philips and Medtronic have been active in Israel for years, offering financing and acquisition opportunities for growing start-ups domestically, not to mention the funding options coming from the country's many life sciences-focused investment funds and venture capital groups.
As well as serving as president and CEO of medical device consulting company Quescon Consultants and sitting on the boards of numerous medtech firms, Blumenfeld is a medtech venture partner at equity crowdfunding platform OurCrowd, and along with Dr Morris Laster is leading OurCrowd's newly-launched $50m Medtech Fund.
While OurCrowd is already a prolific medtech investor, with the likes of AlphaTau Medical, Insightec and Zebra Medical Vision on its books, the idea behind the new group is to be able to move quickly to capitalise on medtech opportunities that might be too complex for a crowdfunding model.
"There was one company that we wanted to invest in, and it took us well over five or six months to raise capital," Blumenfeld says. "By the time the capital was raised, the company didn't want us anymore. At that time it was a $20m company, and about two years later it was a couple of billion dollars. That hurt! So we were saying we want to be able to do both – to make sure we can rapidly make decisions and get funding for companies, and that we can also invest in things that are probably much too difficult for the average investor."
The perfect storm for medtech start-ups
But what are the components that have facilitated the flurry of innovation and financing opportunities that exists in Israel today? The origin of this wave of tech development may have its earliest roots in the early 1990s and the collapse of the former Soviet Union, which drove a mass migration of Russian scientists and academics to Israel. Today, there are around 1.5 million Russian-speaking Israelis, of a total population of around nine million.
"The Chief Scientist's Office [now the Israel Innovation Authority] decided that they would give [Russian immigrants] funding for ideas, and do that for two or three years," Blumenfeld says. "Then some people started some funds, and to my mind that's what started the whole thing going."
In fact, Blumenfeld partly attributes Israel's striking entrepreneurial streak to its history of immigration. He recalls being asked by a senior executive of the University of Toronto about the key to Israel's vibrant medtech eco-system, and how it might be replicated in the Canadian city.
"My answer to him was that the people you have to really involve are the new immigrants," he says. "At that time, about 50% of the people that lived in Toronto were new immigrants to Canada. Those were the people who were ready to make a big change, as opposed to sitting back."
Today, there are many factors supporting Israel's hyper-productive medical technology scene. The concentration of world-class academic institutions (Weizmann Institute of Science, the Technion, Tel Aviv University) and medical centres (Hadassah Hospital, Ichilov Hospital, Chaim Sheba Medical Center) in a relatively small area provides many opportunities for collaboration.
Dedicated technology transfer offices at universities and hospitals work to commercialise the ideas and inventions that come out of these institutions. Even the Israeli military has been a rich source of medical innovation; for example, VRHealth, which develops virtual reality tech for recovery and rehabilitation, was founded by a former pilot in the Israeli Air Force.
As well as an active venture capital eco-system and the presence of global medical device players, the Israeli government also runs multiple innovation incentive and incubation programmes, mainly through the Israel Innovation Authority. These have included MAGNET to support consortia between academics and industry, as well as the NOFAR and KAMIN programmes, which provide grants for applied academic research.
Bringing medical innovation to the world stage
As Israel's domestic market is small, the country has always styled itself as an innovation hub for the world. This, of course, brings challenges for small Israeli companies looking to secure regulatory approval from multiple authorities globally and compete against much larger international rivals.
Given the level of competition, Blumenfeld believes a common failing across the medtech industry in Israel is that companies' capacity to sell their inventions doesn't do justice to the technologies themselves.
"Where they're lacking is in what I would call upstream marketing," he says. "That's a GE term. In other words, I've got a thing, how do I now market it in such a way that people become interested in it? That's something that they're not learning. They still lean towards saying let me just figure out the technology for this, and then I'm going to go on and do something else. That's a lack. It's one of the things I'm hoping we'll be able to help a lot with OurCrowd and with the fund."
But Israel's global reputation is paying dividends on the financing side, with opportunities coming from Europe and the US, and Asia – China in particular – becoming an increasingly lucrative source of foreign investment.
"At OurCrowd, we see at least one or two major groups coming in from South-East Asia, mostly China, every week," Blumenfeld says. "Dr Lotan [Chaim] is part of our group in this new fund; he's the head of cardiology at Hadassah Hospital. He is one of the people who have started this meeting called ICI – Innovations in Cardiac Interventions. In the last two years, they've had huge groups from China coming in, and he has been spending a lot of time going back and forth to China. He tells me that the Chinese absolutely believe that there are three important countries in the world: China, the US and Israel. And when they get to Israel they're amazed by how small it is. They say, 'This is less than we have in one of our cities!'"
It's a shock that many investors have reported when visiting Israel, a country that over the last three decades has developed an outsized medtech sector that packs in more innovation and enterprise per square kilometre than almost anywhere else in the world. Bright ideas are in abundance and global players are paying close attention; if Israeli start-ups can sell their ideas as enthusiastically as they come up with them, the next three decades could be poised for even greater success.
Intel CEO in Israel announces startup accelerator launch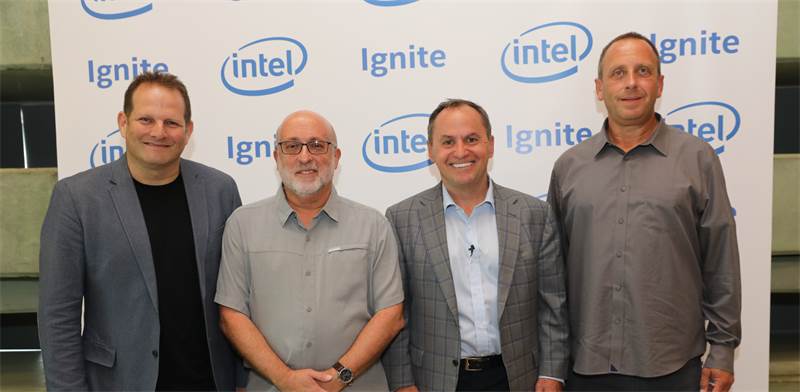 16 Jun, 2019
Bob Swan: Israel has the deep skill base in AI, and autonomous systems  that make it a natural choice to launch our Ignite program.
Intel Corp. (Nasdaq: INTC) today announced the launch of an accelerator program for Israeli startups focusing on artificial intelligence (AI), autonomous systems, data-centric technologies, and other business models. Intel CEO was in Israel for the inauguration ceremony.
The program, called Ignite, will operate from Tel Aviv and, will leverage Intel's global access to the market and business and technological leadership in order to give early-stage startups a unique advantage in their quest to disrupt the future.
Following a rigorous selection process, the company will host 10-15 startups in the pre-seed to seed stage in a 20-week program. The startups will receive practical mentoring from Intel's experts and those of the industry in a range of areas of products, businesses, management, and technology. Intel is committed to accelerating the growth of the companies taking part in the program, and to expanding the circle of influence for their ideas.
Intel CEO Robert Swan said, "Intel has always worked in concert with open ecosystems to scale new technologies so they can be transformational for our customers, business and society. This process is fueled by the innovation and passion of the startup community. Israel has the deep skill base in AI, autonomous systems and the underlying technologies critical to these inflections that make it a natural choice to launch our Ignite program."
The Ignite program will begin operating in Israel later this year, and will be expanded later to other countries. Diversity will be a guiding principle for Ignite, and the startups taking part in it will be selected from a variety of founders, owners, and representatives of Israel's diverse social mix. Intel does not intend to hold shares in the companies taking part in the program, or in the intellectual property that they develop.
Former Microsoft for Startups global manager Tzahi Weisfeld will be CEO of Ignite, and will report to Intel Israel CEO Yaniv Garty. Working together with Weisfeld will be Intel VP SoC architecture Avner Goren, who will be responsible for the connection between Ignite and the technical community within Intel.
Garty said, "As Israel's largest high-tech company, we want to support the major technological changes emerging across our startup community. Ignite is an important step in this direction, focused on our efforts to transform the world through working on innovations in AI, autonomous, cyber and next-generation computing. With our advances in these areas, Intel is positioned to help companies charge forward. I'm confident that Intel's unique expertise in hardware, software and manufacturing will help the startups grow and succeed. The fact that Intel is a large corporation with over 100,000 employees worldwide and very substantial Israeli presence (12,000 employees including subsidiary Mobileye) will greatly help the companies taking part in this program."
Israeli tech company says it can unlock all iPhones ever made, some Androids
Cellebrite, believed to be the company hired by the FBI to hack into San Bernardino killer's phone in 2016, has faced criticism for hiding phones' vulnerabilities from Apple
By TOI staff 17 June 2019
Illustrative image of the passcode screen of an iPhone. (ymgerman/iStock by Getty Images)
An Israeli company that specializes in helping law enforcement agencies unlock cellphones announced it has found a way to break into any iPhone ever made, as well as many Android phones.
The Petah Tikva-based Cellebrite was reportedly the company the FBI used in 2016 to hack into the iPhone of the San Bernardino shooter after Apple refused the US government's request to build a backdoor into its famously secure operating system.
The announcement from Cellebrite came in the form of an update this week to its website promoting the iPhone-hacking technology, dubbed "UFED Premium," as "the only on-premise solution for law enforcement agencies to unlock and extract crucial mobile phone evidence from all iOS and high-end Android devices."
The product enables a full file system extraction, allowing, in effect, a copy of the phone's data to be transferred to a client's computer. It lets law enforcement agencies obtain "access to 3rd party app data, chat conversations, downloaded emails and email attachments, deleted content and more," the company boasts. "Increase your chances of finding the incriminating evidence and bringing your case to a resolution," it says in its sales pitch.
It also highlights its ability to recover "unallocated data," or the sometimes still-recoverable remnants of deleted files.
Illustrative: A UFED phone-hacking device made by the Israeli forensic technology firm Cellebrite. (YouTube screen capture)
Cellebrite's technology does not work remotely. It requires a specially designed device to be physically connected to the phone being hacked.
Cellebrite has faced widespread criticism for its refusal to reveal its methods to Apple so the tech giant's security technicians can seal up the vulnerabilities.
The company has long argued that its help to law enforcement agencies brings greater benefit to the public.
"There's a public safety imperative here. These capabilities are germane again to homicide, crimes against children, drug gangs, major public safety threats in any community," the company's chief marketing officer, Jeremy Nazarian, told Forbes in a March 2018 interview. "We feel an obligation to those serving the public safety mission to ensure those capabilities are preserved, to the extent that they can be."
The company has also insisted that it requires potential clients to demonstrate they have the authority to access an iPhone or Android device before making their product available. It has also said the technology's dependence on physically interfacing with the phones means it is unlikely to be misused.
In this April 30, 2015, file photo, Apple CEO Tim Cook responds to a question during a news conference at IBM Watson headquarters, in New York. (AP Photo/Richard Drew, File)
But critics have noted that Cellebrite has had difficulty ensuring kits it has sent to clients remain with the clients. In February, Cellebrite phone-hacking kits were found on sale on eBay, while some clients have not returned the kits to Cellebrite after use, as the company requests.
There are also fears a Cellebrite kit could be reverse engineered to uncover vulnerabilities that the company continues to keep hidden from the cellphone makers.
Apple has long refused US law enforcement agencies' requests to create backdoors to its operating system that would allow entry into customers' phones, and works hard to patch vulnerabilities discovered by companies like Cellebrite that specialize in forensic hacking. The iPhone maker has argued that no backdoor or vulnerability is ever truly safe in the hands of law enforcement, as it could leak or be discovered independently.
Version:1.0 StartHTML:000000271 EndHTML:000178741 StartFragment:000110405 EndFragment:000178679 StartSelection:000110622 EndSelection:000178646 SourceURL:https://www.mintpressnews.com/neocon-billionaire-paul-singer-driving-outsourcing-us-tech-jobs-israel/259147/ How NeoCon Billionaire Paul Singer Is Driving the Outsourcing of US Tech Jobs to Israel
Several U.S. tech giants including Google, Microsoft and Intel Corporation have filled top positions with former members of Israeli military intelligence and are heavily investing in their Israeli branches while laying off thousands of American employees, all while receiving millions of dollars in U.S. government subsidies funded by American taxpayers.
by Whitney Webb
June 11th, 2019
WASHINGTON — With nearly 6 million Americans unemployed and regular bouts of layoffs in the U.S. tech industry, major American tech companies like Google, Microsoft and Intel Corporation are nonetheless moving key operations, billions in investments, and thousands of jobs to Israel — a trend that has largely escaped media attention or concern from even "America first" politicians. The fact that this massive transfer of investment and jobs has been so overlooked is particularly striking given that it is largely the work of a single leading neoconservative Republican donor who has given millions of dollars to President Donald Trump.
To make matters worse, many of these top tech companies shifting investment and jobs to Israel at record rates continue to collect sizable U.S. government subsidies for their operations while they move critical aspects of their business abroad, continue to layoff thousands of American workers, and struggle to house their growing company branches in Israel. This is particularly troubling in light of the importance of the tech sector to the overall U.S. economy, as it accounts for 7.1 percent of total GDP and 11.6 percent of total private-sector payroll.
Furthermore, many of these companies are hiring members of controversial Israeli companies — known to have spied on Americans, American companies, and U.S. federal agencies — as well as numerous members of Israeli military intelligence as top managers and executives.

This massive transfer of the American tech industry has largely been the work of one leading Republican donor — billionaire hedge fund manager Paul Singer, who also funds the neoconservative think tank American Enterprise Institute (AEI), the Islamophobic and hawkish think tank Foundation for Defense of Democracies (FDD), the Republican Jewish Coalition (RJC), and also funded the now-defunct Foreign Policy Initiative (FPI).
Singer's project to bolster Israel's tech economy at the U.S.' expense is known as Start-Up Nation Central, which he founded in response to the global Boycott, Divest and Sanctions (BDS) movement that seeks to use nonviolent means to pressure Israel to comply with international law in relation to its treatment of Palestinians.
This project is directly linked to Israeli Prime Minister Benjamin Netanyahu, who in recent years has publicly mentioned that it has been his "deliberate policy" to have former members of Israel's "military and intelligence units … merge into companies with local partners and foreign partners" in order to make it all but impossible for major corporations and foreign governments to boycott Israel.
In this report, MintPress identifies dozens of former members of an elite Israeli military intelligence unit who now hold top positions at Microsoft, Google and Facebook.
Singer's nonprofit organization has acted as the vehicle through which Netanyahu's policy has been realized, via the group's close connections to the Israeli PM and Singer's long-time support for Netanyahu and the Likud Party. With deep ties to Netanyahu, the American Israel Public Affairs Committee (AIPAC), and controversial tech companies — like Amdocs — that spied on the American government, this Singer-funded organization has formed a nexus of connections between the public and private sectors of both the American and Israeli economies with the single goal of making Israel the new technology superpower, largely at the expense of the American economy and government, which currently gives $3.2 billion in aid to Israel annually.
Researched and developed in Israel
In recent years, the top U.S. tech companies have been shifting many of their most critical operations, particularly research and development, to one country: Israel. A 2016 report in Business Insider noted that Google, Facebook, Microsoft, Amazon and Apple had all opened up research and development (R&D) centers in recent years, with some of them having as many as three such centers in Israel, a country roughly the size of New Jersey. Other major tech companies that have also opened key operation and research centers in Israel include Sandisk, Nvidia, PayPal, Palantir and Dell. Forbes noted last year that the world's top 10 tech companies were now "doing mission-critical work in Israel that's core to their businesses back at HQ."
Yet, some of these tech giants, particularly those based in the U.S., are heavily investing in their Israeli branches while laying off thousands of American employees, all while receiving millions of dollars in U.S. government subsidies funded by American taxpayers.
For example, Intel Corporation, which is the world's second largest manufacturer of semiconductor computer chips and is headquartered in California, has long been a major employer in Israel, with over 10,000 employees in the Jewish state. However, earlier this year, Intel announced that it would be investing $11 billion in a new factory in Israel and would receive around $1 billion in an Israeli government grant for that investment. Just a matter of months after Intel announced its major new investment in Israel, it announced a new round of layoffs in the United States.
Yet this is just one recent example of what has become a trend for Intel. In 2018, Intel made public its plan to invest $5 billion in one of its Israeli factories and had invested an additional $15 billion in Israeli-created autonomous driving technology a year prior, creating thousands of Intel jobs in Israel. Notably, over that same time frame, Intel has cut nearly 12,000 jobs in the United States. While this great transfer of investment and jobs was undermining the U.S. economy and hurting American workers, particularly in the tech sector, Intel received over $25 million dollars in subsidies from the U.S. federal government.
A similar phenomenon has been occurring at another U.S.-based tech giant, Microsoft. Beginning in 2014 and continuing into 2018, Microsoft has laid off well over 20,000 employees, most of them Americans, in several different rounds of staff cuts. Over that same time period, Microsoft has been on a hiring spree in Israel, building new campuses and investing billions of dollars annually in its Israel-based research and development center and in other Israeli start-up companies, creating thousands of jobs abroad. In addition, Microsoft has been pumping millions of dollars into technology programs at Israeli universities and institutes, such as the Technion Institute. Over this same time frame, Microsoft has received nearly $197 million in subsidies from the state governments of Washington, Iowa and Virginia.
Though Israeli politicians and tech company executives have praised this dramatic shift as the result of Israel's tech prowess and growing reputation as a technological innovation hub, much of this dramatic shift has been the work of the Netanyahu-tied Singer's effort to counter a global movement aimed at boycotting Israel and to make Israel a global "cyber power."
Start-Up Nation Central and the Neocons
Paul Singer | AP photo archive
In 2009, a book titled Start Up Nation: The Story of Israel's Economic Miracle, written by American neoconservative Dan Senor and Jerusalem Post journalist Saul Singer (unrelated to Paul), quickly rose to the New York Times bestseller list for its depiction of Israel as the tech start-up capital of the world. The book — published by the Council on Foreign Relations, where Senor was then serving as Adjunct Senior Fellow — asserts that Israel's success in producing so many start-up companies resulted from the combination of its liberal immigration laws and its "leverage of the business talents of young people with military experience."
"The West needs innovation; Israel's got it," wrote Senor and Singer. In a post-publication interview with the blog Freakonomics, Senor asserted that service in the Israeli military was crucial to Israel's tech sector success, stating that:
"Certain units have become technology boot camps, where 18- to 22-year-olds get thrown projects and missions that would make the heads spin of their counterparts in universities or the private sector anywhere else in the world. The Israelis come out of the military not just with hands-on exposure to next-gen technology, but with training in teamwork, mission orientation, leadership, and a desire to continue serving their country by contributing to its tech sector — a source of pride for just about every Israeli."
The book, in addition to the many accolades it received from the mainstream press, left a lasting impact on top Republican donor Paul Singer, known for funding the most influential neoconservative think tanks in America, as noted above. Paul Singer was so inspired by Senor and Singer's book that he decided to spend $20 million to fund and create an organization with a similar name. He created the Start-Up Nation Central (SUNC) just three years after the book's release in 2012.
To achieve his vision, Singer – who is also a top donor to the Republican Party and Trump – tapped Israeli economist Eugene Kandel, who served as Netanyahu's national economic adviser and chaired the Israeli National Economic Council from 2009 to 2015.
Senor was likely directly involved in the creation of SUNC, as he was then employed by Paul Singer and, with neoconservatives Bill Kristol and Robert Kagan, co-founded the FPI, which Singer had long funded before it closed in 2017. In addition, Dan Senor's sister, Wendy Singer (unrelated to either Paul or Saul), long-time director of Israel's AIPAC office, became the organization's executive director.
SUNC's management team, in addition to Eugene Kandel and Wendy Singer, includes Guy Hilton as the organization's general manager. Hilton is a long-time marketing executive at Israeli telecommunications company Amdocs, where he "transformed" the company's marketing organization. Amdocs was once highly controversial in the United States after it was revealed by a 2001 Fox News investigation that numerous federal agencies had investigated the company, which then had contracts with the 25 largest telephone companies in the country, for its alleged role in an aggressive espionage operation that targeted the U.S. government. Hilton worked at Microsoft prior to joining Amdocs.
Beyond the management team, SUNC's board of directors includes Paul Singer, Dan Senor and Terry Kassel — who work for Singer at his hedge fund, Elliott Management — and Rapheal Ouzan. Ouzan was an officer in the elite foreign military intelligence unit of Israel, Unit 8200, who co-founded BillGuard the day after he left that unit, which is often compared to the U.S.' National Security Agency (NSA). Within five months of its founding, BillGuard was backed by funding from PayPal founder Peter Thiel and former CEO of Google, Eric Schmidt. Ouzan is also connected to U.S. tech companies that have greatly expanded their Israeli branches since SUNC's founding — such as Microsoft, Google, PayPal and Intel, all of which support Ouzan's non-profit Israel Tech Challenge.
According to reports from the time published in Haaretz and Bloomberg, SUNC was explicitly founded to serve as "a foreign ministry for Israel's tech industry" and "to strength Israel's economy" while also aiming to counter the Boycott, Divest and Sanctions (BDS) movement that seeks to use a nonviolent boycott to end the illegal military occupation of the West Bank and Israeli apartheid, as well as the growth of illegal Jewish-only settlements in occupied Palestinian territory.
Since its founding, SUNC has sought to transfer tech jobs from foreign companies to Israel by developing connections and influence with foreign governments and companies so that they "deepen their relationship with Israel's tech industry." Though SUNC has since expanded to include other sectors of the Israeli "start-up" economy, its focus has long remained on Israel's tech, specifically its cybersecurity industry. Foreign investment in this single Israeli industry has grown from $227 million in 2014 to $815 million in 2018.
In addition to its own activities, SUNC appears to be closely linked to a similar organization, sponsored by Coca Cola and Daimler Mercedes Benz, called The Bridge, which also seeks to connect Israeli start-up companies with large international corporations. Indeed, SUNC, according to its website, was actually responsible for Daimler Mercedes Benz's decision to join The Bridge, thanks to a delegation from the company that SUNC hosted in Israel and the connections made during that visit.
Teaming up with Israel's Unit 8200
Members of Israel's signals intelligence Unit 8200 work under a Saudi flag. Photo | Moti Milrod
Notably, SUNC has deep ties to Israel's military intelligence unit known as Unit 8200 and, true to Start Up Nation's praise of IDF service as key to Israel's success, has been instrumental in connecting Unit 8200 alumni with key roles in foreign companies, particularly American tech companies. For instance, Maty Zwaig, a former lieutenant colonel in Unit 8200, is SUNC's current director of human capital programs, and SUNC's current manager of strategic programs, Tamar Weiss, is also a former member of the unit.
One particularly glaring connection between SUNC and Unit 8200 can be seen in Inbal Arieli, who served as SUNC's Vice President of Strategic Partnerships from 2014 to 2017 and continues to serve as a senior adviser to the organization. Arieli, a former lieutenant in Unit 8200, is the founder and head of the 8200 Entrepreneurship and Innovation Support Program (EISP), which was the first start-up accelerator in Israel aimed at harnessing "the vast network and entrepreneurial DNA of [Unit] 8200 alumni" and is currently one of the top company accelerators in Israel. Arieli was the top executive at 8200 EISP while working at SUNC.
Another key connection between SUNC and Unit 8200 is SUNC's promotion of Team8, a company-creation platform whose CEO and co-founder is Nadav Zafrir, former commander of Unit 8200. In addition to prominently featuring Team8 and Zafrir on the cybersecurity section of its website, SUNC also sponsored a talk by Zafrir and an Israeli government economist at the World Economic Forum, often referred to as "Davos," that was attended personally by Paul Singer.
Team8's investors include Google's Eric Schmidt, Microsoft, and Walmart — and it recently hired former head of the NSA and U.S. Cyber Command, retired Admiral Mike Rogers. Team8 described the decision to hire Rogers as being "instrumental in helping strategize" Team8's expansion in the United States. However, Jake Williams, a veteran of NSA's Tailored Access Operations hacking unit, told CyberScoop:
"Rogers is not being brought into this role because of his technical experience. …It's purely because of his knowledge of classified operations and his ability to influence many in the U.S. government and private-sector contractors."
In addition to connections to Unit 8200-linked groups like Team8 and 8200 EISP, SUNC also directly collaborates with the IDF in an initiative aimed at preparing young Israeli women to serve in Unit 8200. That initiative, called the CyberGirlz Club, is jointly funded by Israel's Defense Ministry, SUNC and the Rashi Foundation, the philanthropic organization set up by the Leven family of Perrier-brand water, which has close ties to the Israeli government and IDF.
"Our aim is to bring the girls to this process already skilled, with the knowledge needed to pass the exams for Unit 8200 and serve in the military as programmers," Zwaig told Israel National News.
Seeding American tech
The connections between SUNC and Unit 8200 are troubling for more than a few reasons, one of which being that Unit 8200, often likened to the U.S.' NSA, closely coordinates with Israel's intelligence agency, the Mossad, and is responsible for 90 percent of the intelligence material obtained by the Israeli government, according to its former commander Yair Cohen. Cohen told Forbes in 2016, that "there isn't a major operation, from the Mossad or any intelligence security agency, that 8200 is not involved in." For obvious reasons, the fact that an organization founded by an American billionaire is actively promoting the presence of former military intelligence officers in foreign companies, specifically American companies, while also promoting the transfer of jobs and investment to that same country, is very troubling indeed.
Particularly troubling is the fact that, since SUNC's founding, the number of former Unit 8200 members in top positions in American tech companies has skyrocketed. Based on a non-exhaustive analysis conducted by Mintpress of over 200 LinkedIn accounts of former Israeli military intelligence and intelligence officers in three major tech companies, numerous former Unit 8200 alumni were found to currently hold top managerial or executive positions in Microsoft, Google and Facebook.
At Microsoft, managers for at least 15 of the company's products and programs — including Microsoft's lead managers for engineering, product strategy, threat analytics and cloud business intelligence — publicly listed their affiliation with Unit 8200 on their LinkedIn accounts. In addition, the general manager of Microsoft's Israeli Research and Development Center is also a former member of Unit 8200. In total, of the 200 accounts analyzed, 50 of them currently worked for Microsoft.
Similarly, at Google, 28 former Unit 8200 members at the company were identified from their LinkedIn accounts. Among them are Google's Engineering Director, its strategic partner manager, two growth marketing leads, its lead technical manager, and six product and program managers, including Google's manager for trust and safety search.
Facebook also has several Unit 8200 members in prominent positions, though fewer than Google and Microsoft. MintPress identified at least 13 Unit 8200 alumni working for Facebook, including its director of engineering, lead manager for express wi-fi, and technical program manager. Notably, Facebook has spent the last several years collaborating with Israel's government to censor Israel's critics.
Of course, there is likely much more influence of Unit 8200 on these companies than this non-exhaustive analysis revealed, given that many of these companies acquired several Israeli start-ups run by and staffed by many Unit 8200 alumni who subsequently went on to found new companies and start-ups a few years or shortly after acquisition. Furthermore, due to the limitations of LinkedIn's set-up, MintPress was not able to access the complete list of Unit 8200 alumni at these three tech companies, meaning that the eye-opening numbers found were generated by a relatively small sample.
This jump in Unit 8200 members in top positions in tech companies of global importance is actually a policy long promoted by Netanyahu, whose long-time economic adviser is the chief executive at SUNC. During an interview with Fox News last year, Netanyahu was asked by Fox News host Mark Levin if the large growth seen in recent years in Israel's technology sector was part of Netanyahu's plan. Netanyahu responded, "That's very much my plan … It's a very deliberate policy." He later added that "Israel had technology because the military, especially military intelligence, produced a lot of capabilities. These incredibly gifted young men and women who come out of the military or the Mossad, they want to start their start-ups."
Netanyahu further outlined this policy at the 2019 Cybertech conference in Tel Aviv, where he stated that Israel's emergence as one of the top five "cyber powers" had "required allowing this combination of military intelligence, academia and industry to converge in one place" and that this further required allowing "our graduates of our military and intelligence units to merge into companies with local partners and foreign partners." The direct tie-ins of SUNC to Netanyahu and the fact that Paul Singer has also been a long-time political donor and backer of Netanyahu suggest that SUNC is a key part of Netanyahu's policy of placing former military intelligence and intelligence operatives in strategic positions in major technology companies.
Notably, just as SUNC was founded to counter the BDS movement, Netanyahu has asserted that this policy of ensuring Israel's role as a "cyber power" is aimed at increasing its diplomatic power and specifically undermining BDS as well as the United Nations, which has repeatedly condemned Israel's government for war crimes and violations of international law in relation to the Palestinians.
Building the bi-national surveillance state
A Google data center in Hamina, Finland. (AP/Google)
Top U.S. tech companies have filled top positions with former members of Israeli military intelligence and moved strategic and critical operations to Israel, boosting Israel's economy at the expense of America's, and SUNC's role in this marked shift merits scrutiny.
A powerful American billionaire has built an influential organization with deep connections to the U.S.-Israel lobby (AIPAC), an Israeli company that has been repeatedly investigated for spying on the U.S. government (Amdocs), and the elite Israeli military intelligence unit (Unit 8200) that has used its influential connections to the U.S. government and the U.S. private sector to dramatically shift the operations and make-up of major companies in a critical sector of the U.S. economy.
Further consider that U.S. government documents leaked by Edward Snowden have flagged Israel as "leading threat" to the infrastructure of U.S. financial and banking institutions, which use much of the software produced by these top tech companies, and have also flagged Israel as a top espionage threat. One U.S. government document cited Israel as the third most aggressive intelligence service against the U.S. behind Russia and China. Thus, Paul Singer's pet project in Start-Up Nation Central has undermined not only the U.S. economy but arguably U.S. national security as well.
This concern is further exacerbated by the deep ties connecting top tech companies like Microsoft and Google to the U.S. military. Microsoft and Google are both key military contractors — Microsoft in particular, given that it is set to win a lucrative contract for the Pentagon's cloud management and has partnered with the Department of Defense to produce a "secure" election system known as ElectionGuard that is set to be implemented in some U.S. states for the 2020 general election.