C'mon! Put it in a Bond film. 😀 This is fucking hilarious… it's not just the entire global physics community, it's not global power conglomerates such as Google and IBM… IT'S THE CHINESE! 😀
Every time I think about this… I just crack up in hysterical fits of laughter. 😀
(their on the same par as Flat Earthers!)
"It's like there's some cabal of physicists that wants everybody to be stupid." – Dr Randell Mills
How China became a subatomic superpower with quantum technology
Shots have been fired in the most important tech war since the space race – and China is determined to win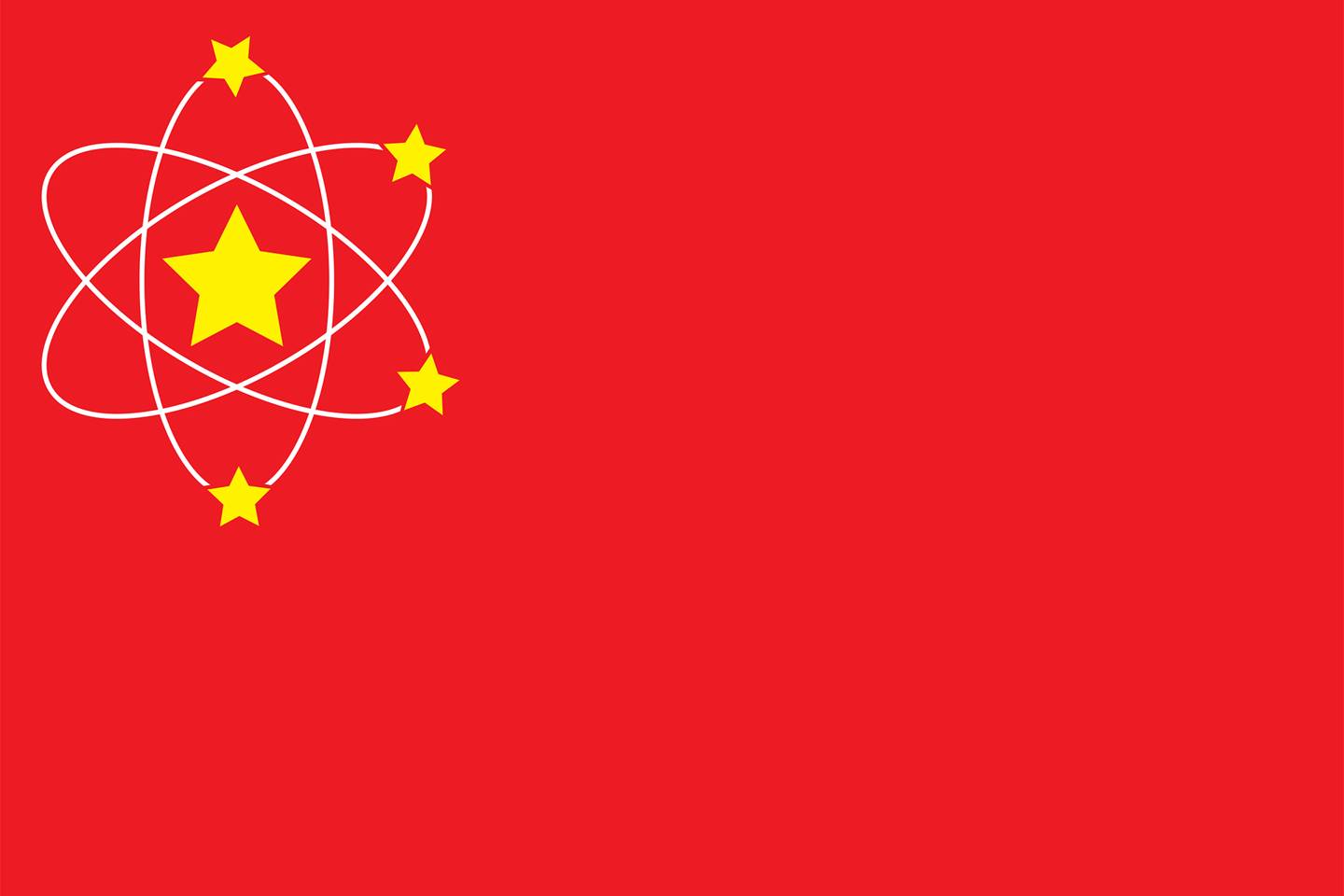 China has announced three things in recent years that have largely escaped mainstream attention but should have you worried.
The first came in June 2017, when the Chinese Academy Of Sciences revealed it had developed a highly sensitive – possibly the world's most sensitive – magnetometer. Analysts were quick to note this means China is in possession of the longest-range submarine detector ever developed. The second troubling revelation came two months later. The Xinhua state news agency claimed China had sent a test message from a satellite to the earth using encryption deemed "unbreakable", which had "enormous prospects" for the military. The third announcement again shared those prospects. In November 2018, China's leading defence technology company, CETC, revealed a prototype radar that may be able to unmask stealth aircraft in flight.
This run of advances has the potential to upset the geopolitical balance of power and they are all grounded in one thing: quantum science. This emerging field of engineering is notoriously complex, but whichever country masters it first will enjoy an advantage over its rivals.
Quantum tech exploits the weird behaviours of subatomic particles. I asked Professor Peter Kruger, head of the Quantum Systems & Devices group at the University Of Sussex, to explain it through the lens of its most famous advance: the quantum computer. "A classical computer uses many, many bits – electronic switches that are either set to zero or one – for all storage and processing of input data and results of calculations," he said. "A quantum computer would instead operate with quantum bits or 'qubits', which can be simultaneously set to zero or one, based on the quantum principle of 'superposition'. Also, two or more qubits can be connected to each other [even when separated by large distances] in a way that is only possible in quantum physics, called 'entanglement'." These two principles of superposition and entanglement allow quantum computers to perform many tasks at once, making them exponentially more powerful than conventional machines. The ramifications are profound – particularly for the safety of sensitive data. As IBM Research's website puts it, "A fault-tolerant, universal quantum computer with millions of qubits could quickly sift through the probabilities and decrypt even the strongest [traditional] encryption, rendering this foundational security methodology obsolete."
While quantum technologies pose a threat, they could also bring a host of benefits
A reality check. We are a long way from developing the kind of quantum computer IBM describes. Such machines are really hard to make. Their chips can only run at extremely cold temperatures; Intel's Spin Qubit chip requires an environment 250 times colder than space. Qubits themselves are highly unstable, only maintaining their quantum state for fractions of a second. The most advanced quantum computer in existence is Google's, which contains just 72 qubits – far from the "millions" hypothesised by IBM. "A full-scale functional universal quantum computer is probably 20 years plus away," says Kruger. "But more specialised devices that are perhaps geared towards a more specific class of problems could be available much sooner."
Still, you only have to look at all that news from China to see how quickly quantum science is developing. And if you want a sense of how fast China is outstripping the rest of the world, consider this: in 2018, China registered 517 quantum communications and cryptography patents; the US registered 117 and Europe only 31. The US has, however, woken up to this emerging gulf. In December, it devoted $1.2 billion to double down on quantum research through the National Quantum Initiative Act. This committed to creating a multi-year strategy to accelerate America's capabilities and established a National Quantum Coordination Office. There is everything to play for: US firms are already making major breakthroughs. Google, for instance, hopes to use its 72-qubit chip to demonstrate, for the first time, the completion of calculations deemed impossible on a classical computer.
As for the situation in the UK: is the government all over this? Take a wild guess. Last year, the National Quantum Technologies Programme asked ministers for a (frankly, modest) £338 million to make sure we keep up with the quantum revolution; the programme received just £80m.
It's vital the UK not be left behind. While quantum technologies pose a threat, they could also bring a host of benefits. "Quantum technology is turning into a new high-tech industry with opportunities in many areas, including healthcare, transport and energy, consumer electronics, communication and more. The expectation is that the impact on modern societies is going to be huge," says Kruger. One example is quantum simulations. "This is where a quantum computer could predict and assist the outcome of processes where quantum effects make it too difficult to use a classical computer. A key example for that are complex chemical reactions with important applications in drug design."
And then there are all the consequences we can't foresee. Technology tends to develop in unexpected ways. Look at the transistor, that simple component for switching or amplifying electrical signals. Its initial use was in hearing aids; it ended up giving us the microchip and, with it, the silicon age. Whatever the quantum age looks like, one thing seems certain: it will dawn. The nations that define this century will be there when it does.
This One New Piece of Technology Might Make Submarines Completely Obsolete
And China might develop it–and soon. by Sebastien Roblin
Time will tell which, if any, of these technologies can be developed into practical operational systems. However, it's clear that scientists in China and Australia are betting that developments in the field of quantum physics will play their part in changing the rules of undersea warfare in the twenty-first century.
According to some evaluations, today's cutting-edge submarines like the Virginia- and Sea Wolf-class attack submarines have been evaluated to run only five decibels louder than average oceanic background noises. Even less-expensive Swedish air-independent propulsion submarines have successfully passed undetected to sink U.S. carriers during exercises.
Yet some naval analysts are decidedly bearish on the prospects of submarine stealth in the twenty-first century, looking ahead to highly sensitive low-frequency sonars, advanced satellite-based optical sensors that may bypass acoustic-stealth entirely, and powerful computer processors that can churn through vast quantities of data to discriminate faint contacts from background noise. China is even developing a satellite-based laser surveillance system aimed at detecting vessels submerged as deep as five hundred meters.
Recently, the field of quantum mechanics has increasingly shown its potential to disrupt established paradigms in multiple domains of warfare—particularly due to the concept of quantum entanglement, the uncanny phenomenon by which bonded particles continue to uncannily reflect each other's behavior even across long distances.Report Advertisement
Though still facing by range coherence limitations, quantum sensors and communicators could potentially bypass many of the limitations and vulnerabilities of traditional radio-frequency sensors, remaining effective despite jamming or stealthy-aircraft profiles. As detailed in this article, China appears to have taken an early lead in 'quantum radar', though how soon the technology can be developed into an operationally viable system remains to be seen.
Today, acoustic detection remains the primary methods to detect and track submarines.  Besides active and passive sonars mounted on ships and submarines, they are also fixed in underwater surveillance systems, dropped in buoys by maritime patrol planes like the P-8 Poseidon or Japanese P-1, and hoisted down into the water by anti-submarine helicopters like the MH-60R Seahawk.
However, anti-submarine warriors can draw upon an array of supporting technologies beyond sonar that have historically played a major role.
During World War II, aircraft-borne surface-search radars led to the doom of many German U-Boats, allowing patrol planes to detect and swoop down upon diesel-powered submarines while they were surfaced at night to recharge their batteries. Though snorkels gave submarines a way to sip air without detection, they too are susceptible to detection by modern synthetic-aperture radars. However, though many diesel-electric submarines remain in service, a large share of modern submarines use air-independent propulsion or nuclear-power allowing them to cruise weeks or months respectively before surfacing.
Sub-hunter can also employ "sniffers" that can 'smell' the chemicals in the submarine's diesel exhaust
The SQUID Magnetometer
Another famous submarine-hunting ploy is to use Magnetic Anomaly Detectors triggered by the submarine's metallic hull. The threat posed by MADs has led navies to de-gauss submarine hulls to minimize magnetic profiles. Germany has specially developed Type 212 and 214 submarines with non-metallic hulls.
However, MADs have very short range, and the P-8 and MH-60R omit a MAD entirely.
Enter, therefore, the SQUID, or Superconducting Quantum Interference Device. Though it might sound like Star Trek technobabble, SQUIDs leverages quantum technology to offer an ultra-sensitive magnetometer. Too sensitive, in fact, as SQUIDs have picked up background noise from stuff as distant as solar flares.
But on June 21, 2017, a Chinese periodical announced that Professor XIamong Xie of the Shanghai Institute of Microsystems and Information Technology had developed cryogenic liquid-nitrogen-cooled SQUID which reduced the noise-problem—and in field-tests, had proven capable of detecting ferrous objects deep underground even when mounted on a helicopter.
After a South China Morning Post article speculated on whether it amounted "to the world's most powerful submarine detector?" the original article was taken down.
Dave Hambling noted in the New Scientist that Xiamong's new sensor used an array of SQUIDs to help cancel out background noise.
"Researchers estimate that a SQUID magnetometer of this type could detect a sub from 6 kilometres away, and [Imperial College researcher David] Caplin says that with better noise suppression the range could be much greater."
A typical MAD, by contrast, is only effective to a few hundred meters, meaning the new SQUID could potentially cover thousands of times more square meters.
In April 14 2019, an article by Defense Procurement International revealed Australia too was researching quantum magnetometer technology for submarine detection—this time apparently intended for a fixed submarine surveillance system.
Professor Andre Luiten of the Institute for Photonics and Advanced Sensing is quoted thusly: "These magnetometers can detect very small magnetic fields. The goal of this project is to build sensors that go on the seabed which detect the presence of submarines through their properties. You'd essentially set up a trip wire around assets that are of importance to Australia."
Quantum Compass?
Quantum technology could also serve as an advanced navigational sensor—one that could circumvent submarine dependence on orbiting satellites to stay on course
The Jamestown Foundation's Elsa Kania and Stephen Armitage note that:
"[Q]uantum navigation could allow for a "new generation of inertial navigation," enabling high-precision navigation without GPS . . . This so-called "quantum compass" would be particularly useful for submarines and other maritime platforms for which it could enable the pinpointing of their position with high levels of accuracy. Quantum navigation could thus potentially liberate Chinese operational platforms from dependence on space-based positioning systems, which can be easily jammed."
Kania also notes that Quantum navigation also has implicit offensive potential: these technologies might also be applied to improve missile guidance and enhance precision strike capabilities.
However, satellites, too, could use quantum sensors to influence submarine warfare. Satellites using quantum gravimeters, which could improve the sensitivity of sensors designed to detect and measure gravity fields, could potentially detect submarines, or more likely, map out seafloors with new levels of precision.
China has also famously made breakthroughs in using quantum entanglement for encrypted communications by teleporting molecules over long distances. This could conceivably have application to communications with submerged submarines, a technically challenging task—with implications particularly for transmission of orders from a national command authority to launch nuclear weapons.
Time will tell which, if any, of these technologies can be developed into practical operational systems. However, it's clear that scientists in China and Australia are betting that developments in the field of quantum physics will play their part in changing the rules of undersea warfare in the twenty-first century.
Sébastien Roblin holds a master's degree in conflict resolution from Georgetown University and served as a university instructor for the Peace Corps in China. He has also worked in education, editing, and refugee resettlement in France and the United States. He currently writes on security and military history for War Is Boring.
Jian-Wei Pan Appointed Lead Editor for Physical Review Research
June 11, 2019
APS has appointed Jian-Wei Pan, Professor of Physics at the University of Science and Technology of China (USTC) in Hefei, as a Lead Editor for Physical Review Research. Pan joins Lead Editor Nicola Spaldin, appointed in April, on the editorial leadership team for APS's new open access, multidisciplinary journal, which will open for submissions later this month.
Widely recognized as an international leader in the rapidly growing, interdisciplinary field of quantum science and technology, Pan will focus on connecting the journal to his research networks, as well as to the broader scientific community across the Asia-Pacific region.
"As the newest member of the Physical Review family, Physical Review Research will uphold rigorous peer review, trusted editorial standards, and high visibility," says Pan. "The combination of open access and coverage of the whole spectrum of physics, including interdisciplinary research, will gain recognition for research broadly across physics and science."
In addition to his professorship at USTC, Pan is an Academician of the Chinese Academy of Sciences (CAS), Director of the CAS Center for Excellence and Innovation in Quantum Information and Quantum Physics, and Chief Scientist for both the Quantum Science Satellite Project and the Beijing-to-Shanghai 2000-km Quantum Communication Backbone Project. Pan received Bachelor's and Master's degrees in physics from USTC and a Ph.D. from the University of Vienna, where he also continued on as a Research Associate until joining the University of Heidelberg, where he is an Honorary Professor.
Pan is an APS Fellow and has authored more than 270 articles which have received more than 32,000 citations. His honors include: the Emmy Noether Research Award; the Sofja Kovalevskaja Award; the Marie Curie Excellence Research Award; the EPS Fresnel Prize; the Quantum Communications Award; First Prize of National Prize for Natural Sciences of China; the Future Prize in Physical Science; the Willis E. Lamb Award for Laser Science and Quantum Optics; the AAAS Newcomb Cleveland Prize; the OSA R. W. Wood Prize. Additionally, Pan has been recognized as one of Nature's 2017 People of the Year, and Time magazine's 100 most influential people of 2018.
Physical Review Research will soon be announcing additional appointments of Editors and Editorial Board members as it continues to build a diverse and global team to cover the topical breadth and geographic range of this multidisciplinary, international peer-reviewed journal.