"Is there any point in trying to articulate myself on this one? I was told by MI5 that UFOs are not only real, but that "their walking amongst us"(I.e. extra-terrestrials). I've seen UFO's for myself on multiple occasions… take it further than that… I FUCKING MET ONE! In a restaurant at Hotel Rixos, Borovue, Kazakhstan!
Why would I make that up? What would possibly be the motivation for saying…
"I know that I just had a telepathic encounter with an extra-terrestrial being of unfathomable intelligence and intellect, whilst eating my lunch in the hotel restaurant"
WHAT WOULD I POSSIBLY HAVE TO GAIN FOR MAKING SUCH A BIZARRE CLAIM?
An alien species, millions of years advanced than us (homo sapiens are maybe 200,000 years old… maybe a bit older), what would be their motivation in trying to communicate with us on our level? It would be like us trying to communicate with an insect!
They've mastered interstellar travel. They've unlocked abundant energy, the secrets of the atom and cosmos. They've developed their society or civilisation in ways that we cannot fathom… … their fucking with us all! Every military, Government and Intel agency… THEY'RE FUCKING WITH US! Their own amusement? Trying to teach us something? Monitoring us like we're in a zoo?… … I mean seriously!
AND THERE'S A 'SPIRITUAL' ASPECT TO ALL THIS! Most approach the subject from a 'nuts and bolts', metallic UFO travelling through space… but it is so much more than that! The abduction phenomena… you're talking about human consciousness and perception… this is why it ties in so closely with shamanism and psychedelic experiences when you look into it.
IT IS FUCKING MINDBLOWING!
They've been fucking with us since the beginning in every way possible!
(The chances of DNA arising by chance is one to the power two hundred eighty zeros! WAKE THE FUCK UP!)
UFOs are not the same thing as extraterrestrial life. But we should start thinking about that possibility.
Footage shows encounter between U.S. navy jet and unknown aircraft
Footage from 2004 shows an encounter between a U.S. fighter jet and "anomalous aerial vehicles," which is military jargon for UFOs. (To The Stars Academy of Arts and Science) By Daniel W. Drezner Daniel W. Drezner is a professor of international politics at the Fletcher School of Law and Diplomacy at Tufts University and a regular contributor to PostEverything. May 28
The term "UFO" automatically triggers derision in most quarters of polite society. One of Christopher Buckley's better satires, "Little Green Men," is premised on a George F. Will-type pundit thinking that he has been abducted by aliens, with amusing results. UFOs have historically been associated with crackpot ideas like Big Foot or conspiracy theories involving crop circles.
The obvious reason for this is that the term "UFO" is usually assumed to be a synonym for "extraterrestrial life." If you think about it, this is odd. UFO literally stands for "unidentified flying object." A UFO is not necessarily an alien from another planet. It is simply a flying object that cannot be explained away through conventional means. Because UFOs are usually brought up only to crack jokes, however, they have been dismissed for decades.
One of the gutsiest working paper presentations I have witnessed was Alexander Wendt and Raymond Duvall presenting a draft version of "Sovereignty and the UFO." In that paper, eventually published in the journal Political Theory, Wendt and Duvall argued that state sovereignty as we understand it is anthropocentric, or "constituted and organized by reference to human beings alone." They argued that the real reason UFOs have been dismissed is because of the existential challenge that they pose for a worldview in which human beings are the most technologically advanced life-forms:
UFOs have never been systematically investigated by science or the state, because it is assumed to be known that none are extraterrestrial. Yet in fact this is not known, which makes the UFO taboo puzzling given the ET possibility…. The puzzle is explained by the functional imperatives of anthropocentric sovereignty, which cannot decide a UFO exception to anthropocentrism while preserving the ability to make such a decision. The UFO can be "known" only by not asking what it is.
When Wendt and Duvall made this argument, there were a lot of titters in the audience. I chuckled, too. Nonetheless, their paper makes a persuasive case that UFOs certainly exist, even if they are not necessarily ETs. For them, the key is that no official authority takes seriously the idea that UFOs can be extraterrestrials. As they note, "considerable work goes into ignoring UFOs, constituting them as objects only of ridicule and scorn."
[The military keeps encountering UFOs. Why doesn't the Pentagon care?]
In recent years, however, there has been a subtle shift that poses some interesting questions for their argument. For one thing, discussion of actual UFOs has been the topic of some serious mainstream media coverage. There was the December 2017 New York Times story by Helene Cooper, Ralph Blumenthal and Leslie Kean about the Defense Department's Advanced Aerospace Threat Identification Program, which was tasked with cataloguing UFOs recorded by military pilots. DoD officials confirmed its existence. Though this story generated some justified skepticism, it represented the first time the U.S. government acknowledged the existence of such a program. What we know — and don't know — about aliens and UFOs
The Post's Cleve R. Wootson Jr. explains why a recent admission from the government is like pouring kerosene on UFO conspiracy theories. (Video: Monica Akhtar/Photo: Bill O'Leary/The Washington Post)
Then, there were the reports last November about Oumuamua, "a mysterious, cigar-shaped interstellar object [that] fell through our solar system at an extraordinary speed," according to New York's Eric Levits. Oumuamua's shape and trajectory were unusual enough for some genuine astrophysicists to publish a paper suggesting the possibility that it was an artificial construction relying on a solar sail. Again, this prompted skeptical reactions, but even those skeptics could not completely rule out the possibility that extraterrestrial activity was involved.
Then, on Monday, the New York Times came out with another story by the same reporters who broke the 2017 story:
The strange objects, one of them like a spinning top moving against the wind, appeared almost daily from the summer of 2014 to March 2015, high in the skies over the East Coast. Navy pilots reported to their superiors that the objects had no visible engine or infrared exhaust plumes, but that they could reach 30,000 feet and hypersonic speeds.

"These things would be out there all day," said Lt. Ryan Graves, an F/A-18 Super Hornet pilot who has been with the Navy for 10 years, and who reported his sightings to the Pentagon and Congress. "Keeping an aircraft in the air requires a significant amount of energy. With the speeds we observed, 12 hours in the air is 11 hours longer than we'd expect."….

No one in the Defense Department is saying that the objects were extraterrestrial, and experts emphasize that earthly explanations can generally be found for such incidents. Lieutenant Graves and four other Navy pilots, who said in interviews with The New York Times that they saw the objects in 2014 and 2015 in training maneuvers from Virginia to Florida off the aircraft carrier Theodore Roosevelt, make no assertions of their provenance.
The Times reporters broke new ground by getting pilots on record. What is interesting about this latest news cycle, however, is that DoD officials are not behaving as Wendt and Duvall would predict. Indeed, Politico's Bryan Bender reported last month that, "The U.S. Navy is drafting new guidelines for pilots and other personnel to report encounters with 'unidentified aircraft,' a significant new step in creating a formal process to collect and analyze the unexplained sightings — and destigmatize them." My Post colleague Deanna Paul followed up by reporting that "Luis Elizondo, a former senior intelligence officer, told The Post that the new Navy guidelines formalized the reporting process, facilitating data-driven analysis while removing the stigma from talking about UFOs, calling it 'the single greatest decision the Navy has made in decades.' "
What appears to be happening is that official organs of the state are now acknowledging that UFOs exist, even if they are not literally using the term. They are doing so because enough pilots are reporting UFOs and near-air collisions so as to warrant better record-keeping. They are not saying that these UFOs are extraterrestrials, but they are trying to destigmatize the reporting of a UFO.
Still, the very fact that this step has been taken somewhat weakens the Wendt and Duvall thesis. This was always a two-step process: (a) Acknowledge that UFOs exist; and (b) Consider that the UFOs might be ETs.
In recent years, the U.S. national security bureaucracy has met the first criterion. What happens to our understanding of the universe if great powers meet that second one?
By Mindy Weisberger, Senior Writer May 30, 2019 10:51am
The former leader of the U.S. government's top-secret UFO program has stories to tell, and he is sharing some of them for the first time in a new documentary.
Intelligence officer Luis Elizondo served as the former director of the Pentagon's Advanced Aerospace Threat Identification Program (AATIP), an initiative launched in 2007 to study reports of UFO encounters. Elizondo departed the agency in 2011; in 2017, he spoke with reporters at The New York Times, confirming the existence of the shadowy agency and describing its mission.
Now, Elizondo is pulling back the curtain on his tenure with the AATIP, which he left because of a lackluster official response to the agency's findings, and their unwillingness to address potential risks from UFOs, according to the new show "Unidentified: Inside America's UFO Investigation," premiering May 31 on the History Channel at 10 p.m ET/9 p.m. CT. [UFO Watch: 8 Times the Government Looked for Flying Saucers]Advertisement
No, there isn't a big reveal that UFOs were alien spacecraft all along. But delving into long-hidden accounts of UFO investigations will hopefully encourage people — and authorities — to overcome long-standing stigmas and talk more openly about these mysterious aircraft, some of which may pose a bigger threat than we realize, Elizondo told Live Science.
UFOs have perplexed and fascinated people for decades; they also pose a unique challenge to federal agents trying to determine if they represent a threat to national security. Before AATIP, the U.S. Air Force had launched Project Blue Book, which investigated more than 12,000 purported UFO sightings from 1952 to 1969.
During Elizondo's tenure at AATIP, observers reported UFOs flying at hypersonic speeds — more than five times the speed of sound. Yet there were none of the signatures that usually accompany aircraft flying at such fantastic speeds, such as sonic booms, he said.
The UFOs were also unexpectedly mobile, traveling so fast that they would have experienced gravitational forces, or G-forces, that far exceed the limits of endurance for both humans and aircraft. The F-16 Fighting Falcon aircraft, one of the most maneuverable in the U.S.'s arsenal, reaches its limit at around 16 to 18 G's, while the human body can withstand about 9 G's "for a very short time" before a person would start to black out, Elizondo said.
"These things that we were observing were pulling 400 to 500 G's," he said. "They don't have engines or even wings, and they are able to seemingly defy the natural effects of Earth's gravitational pull."
Some of the UFO sightings reported to AATIP were eventually resolved, as aerial drones or test firings of new types of missiles that were spotted from an unusual angle. But while many astonishing UFOs still defied explanation, there simply isn't enough evidence to suggest they belonged to extraterrestrials, Elizondo added.
However, another possibility is even more unsettling than the prospect of an alien invasion: that a foreign adversary had secretly developed technologies that are "strategic game-changers," unlike anything ever seen before, he said. Addressing that potential threat is a necessary step that government officials — even those that supported AATIP — don't take seriously enough, according to Elizondo.
What's more, the entrenched secrecy shrouding official UFO investigations only reinforces the association of UFOs with "tinfoil hats and ridiculous stories."
"We trust the American people to know that North Korea has nuclear warheads pointed at Los Angeles, yet we don't trust them with the knowledge that there's something in our skies and we don't know what it is? That seems counterproductive to me," Elizondo said.
Version:1.0 StartHTML:000000213 EndHTML:000802173 StartFragment:000752492 EndFragment:000802125 StartSelection:000752558 EndSelection:000802105 SourceURL:https://www.space.com/ufo-sightings-us-pilots.html 'Giant Tic Tac' and Other Hypersonic UFOs Spotted by Navy Pilots | Space
'Giant Tic Tac' and Other Hypersonic UFOs Spotted by Navy Pilots
By Mindy Weisberger a day ago Spaceflight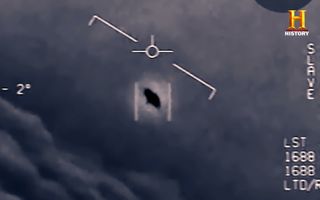 In 2014 and 2015, pilots with the U.S. Navy reported multiple UFO sightings during training maneuvers. (Image: © Copyright History 2019)
Between 2014 and 2015, seasoned pilots in the U.S. Navy experienced a number of harrowing encounters with UFOs during training missions in the U.S. While pilots were mid-flight, their aircraft cameras and radar detected seemingly impossible objects flying at hypersonic speeds at altitudes up to 30,00 feet (9,144 meters); these mysterious UFOs did so with no visible means of propulsion, The New York Times reported on May 26.
However, none of the pilots suggest that these perplexing UFOs represent an extraterrestrial invasion, according to The Times, which previously wrote about Navy pilots encountering UFOs in 2004.
In total, six pilots who were stationed on the aircraft carrier U.S.S. Theodore Roosevelt between 2014 and 2015 told The Times about spotting UFOs during flights along the southeastern coast of the U.S., extending from Virginia to Florida. [7 Things Most Often Mistaken for UFOs]  Declassified Video: Navy Pilots See 'UFO' Off East Coast.
Two of the pilots who spoke with The Times about the inexplicable sightings share their stories in the new History Channel documentary series "Unidentified: Inside America's UFO Investigation," premiering May 31.
Video of two aerial encounters appears in the series, showing clips of UFOs: one tiny white speck and one large, dark blob. These UFOs later came to be known respectively as "Go Fast" and "Gimbal."
The objects had "no distinct wing, no distinct tail, no distinct exhaust plume," Lt. Danny Accoin, one of the Navy pilots who reported UFO sightings beginning in 2014, said in the documentary.
"It seemed like they were aware of our presence, because they would actively move around us," Lt. Accoin said.
According to Lt. Accoin, when a strange reading shows up on radar for the first time, it's possible to interpret it as a false alarm, "but then when you start to get multiple sensors reading the exact same thing, and then you get to see a display, that solidifies it for me.".
Accoin told The Times he encountered UFOs twice, during flights that were a few days apart. He also said that though tracking equipment, radar and infrared cameras on his aircraft detected UFOs both times, he was unable to capture them on his helmet camera.
Lt. Ryan Graves, an F-18 pilot, said in the documentary that a squadron of UFOs followed his Navy strike group up and down the eastern coast of the U.S. for months. And in March, 2015, after the Roosevelt was deployed to the Arabian Gulf, Graves said the UFOs reappeared.
"We did have issues with them when we went out to the Middle East," Lt. Graves said.
Pilots who spotted the UFOs speculated among themselves that the unnerving objects may have belonged to a highly classified drone program using unknown technology, and they did not consider them to be extraterrestrial in origin, The Times reported. T
Lt. Graves and others are speaking out now because what they saw raised concerns for them about their comrades and national security, Christopher Mellon, a former Deputy Assistant Secretary of Defense for Intelligence, told the History Channel.
In 2015, following this spate of UFO sightings, the U.S. Navy issued official guidelines for personnel to report and investigate aerial objects, according to The Times. Those Navy protocols were updated earlier this year; all data will be classified information and will not be made available to the general public, Live Science previously reported.
"Unidentified: Inside America's UFO Investigation" airs on the History Channel on May 31 at 10 p.m. ET/9 p.m. CT.