"I think British 'Intelligence' (term used loosely) have finally got the fucking message! 😀 It's like breaking up with a really crazy bunny boiling bitch… … just weird as fuck!
MI6/MI5… I mean this in the best possible way, I honestly do… you need help. You really are not functioning as an intelligence agency, and you'll end up bringing yourself and your country down… badly. I wish you all the best (
kinda?), but we need to be seeing other people.

Anyhoo! What the t-shirt?… Well… the CIA started it! 😉

U.S., Israel Issue Call for Energy and Water-Related Joint Tech Proposals
Four awards are available, one in each of the domains of fossil energy, energy storage, energy-water nexus, and energy cyber and physical security in critical infrastructure, via The U.S.-Israel Energy Center
Adi Pick 17:0823.05.19 TAGS:
The U.S. Department of Energy, the Israeli Ministry of Energy, and the Israeli government's tech investment arm the Israel Innovation Authority, via the newly-established U.S.-Israel Center of Excellence in Energy, Engineering and Water Technology, have opened on Tuesday a call for proposals for grants in the fields of water and energy technologies. The call is open for collaborative ventures between U.S. and Israeli companies, research institutes, and universities. Four awards are available, one in each of the domains of fossil energy, energy storage, energy-water nexus, and energy cyber and physical security in critical infrastructure. The U.S. and Israeli governments will each provide $8 million for the initial two-year launch of the Energy Center, though five-year awards are planned depending on funding. Awardees will be required to shoulder 50% of the costs.
The U.S.-Israel Energy Center is managed by the Israel-U.S. Binational Industrial R&D (BIRD) Foundation, established in 1977 to generate mutually beneficial cooperation between U.S. and Israeli companies.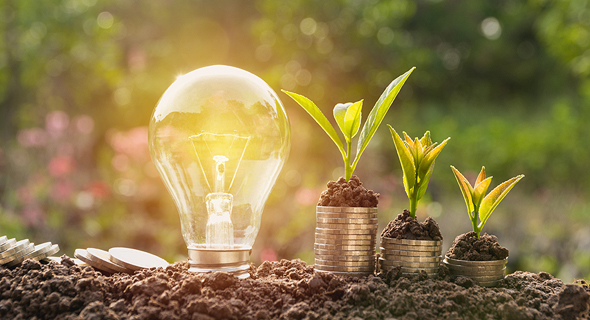 Energy research (illustration). Photo: Shutterstock
22 May, 2019 in Industry Written by Jordan Yerman
The Azrieli Center in Tel Aviv, which is among the world's foremost tech hubs. Image: Getty Images
Industry giants are looking toward a country that can be driven from one end to the other in about five hours for its outside-the-box entrepreneurship.
Israel has earned the nickname "Startup Nation" for a very good reason: With a population of around 8.5 million, it has the largest number of startups per capita in the world, around one startup per 1,400 people. This phenomenon has caught the eyes of companies with global reach – and global aspirations – including those in the airline industry.
Attention from established industries seems to have inspired a yes-we-can attitude among young professionals in Israel. "I believe there is a culture in Israel for innovation, and since people see that many startups are being promoted and sold and doing great stuff, it gives you motivation to create more," says Asaf Toker, CEO of SeeVoov, a video-based trip-planning platform.
Though it's not what may spring to mind when one thinks of personal creativity and freedom, Toker credits his time in the Israel Defense Forces (IDF) – military service is compulsory for the majority of Israeli citizens – for giving him the tools to enter the startup game. With 80 soldiers reporting to him when he was in his late teens, he had to quickly find his feet as a leader. "We all have to go into the army, and there you learn how to improvise," Toker says. "You learn how to find solutions when you have a problem and you don't have the means to solve it – you need to think outside the box!"
Silentium develops noise-reduction technology for trains, airports and airplanes. Image: Silentium
That sentiment was echoed by Yoel Naor, CEO of Silentium, which develops noise-reduction technology that makes trains, airports and even airplanes quieter places. "It all begins with a need or lack of a resource, and sometimes a difficulty to cope – along with a little daring and striving for success," Naor says.
Itai Green, CEO of Innovate Israel and founder of Israel Travel Tech Startups (ITTS), a community of over 300 young companies, also agrees. "Israeli society has a unique DNA that strives for solutions that are both creative and quick," Green says. "Also, there's a vast technological experience accumulated in the Israeli military, and combined with the supporting ecosystem, these create a unique fertile ground for innovative ideas."
Among the IDF's cyber-intelligence units, the most famous is likely Yehida Shmoneh-Matayim (Unit 8200), which trains young Israeli recruits in coding, hacking and cyber-espionage – and yes, its recruits are trained to develop smartphone apps. In a Financial Times article, a senior research fellow at Britain's Royal United Services Institute described Unit 8200 as "probably the foremost technical intelligence agency in the world and stands on a par with the NSA in everything except scale." Unit 8200 has produced several CEOs, as well as allegedly helping give birth to the ultra-sophisticated (and destructive) Stuxnet worm, which went into the wild in 2010. Israel has never publicly commented on its involvement in Stuxnet's creation, but has confirmed cyberwarfare as core to its modern defense strategy. If you're a Unit 8200 graduate, that carries real weight in the tech world – the equivalent of a law degree from Harvard or Yale.
Israel's tech-driven military training and supportive environment help to foster its innovation. Image: Getty Images
Staying in Place
While "sell to Google, make millions, retire on the beach" seems like the dream of some, if not most, of the players in the startup scene, it's by no means the dominant paradigm in Israel – and not only because Tel Aviv is already on the Mediterranean.
Massive Israeli startup exits include Waze (sold to – yes – Google for $1.3 billion), Mellanox (sold to NVIDIA for $6.9 billion) and Mobileye (sold to Intel for $15.3 billion); but you don't have to look far for huge scale-ups, either. For example, gig-economy platform Fiverr and website builder Wix remain independent, as do content-recommendation engines Taboola and Outbrain, although both are now based in the United States. So a buyout isn't necessarily the end game for young Israeli companies – there's an established culture of keeping things close to home. Naor sees both strategies at play, with the desire to keep R&D within Israel as a common denominator.
SeeVoov is currently negotiating with several airlines for a spot in that coveted in-flight entertainment space, and getting those initial meetings is easy because of Israel's robust networking infrastructure – socially and geographically. "We actually help each other," Toker says. "For example, when we signed an affiliation agreement with the representative from Skyscanner, we organized half a day of sessions for him to meet our colleagues – some of whom were competitors! We wanted them to meet him because we believe that if someone from our community succeeds, it helps all of us."
"There's a level of knowledge sharing between the different players that is almost unheard of and that assists the entire ecosystem." – Itai Green, Innovate Israel and ITTS
This same attitude influenced Green's brainchild, the ITTS. "The Israeli entrepreneurial ecosystem is unique compared to other areas in the world in various ways, including the quality of the workforce, the level of creativity, the speed of thinking and the execution," Green says. "Additionally, there's a level of knowledge sharing between the different players that is almost unheard of, and that assists the entire ecosystem to quickly evolve and develop superb and elegant solutions that assist global corporations."
Then there's the geographical element. Israel is a very small place – only nine miles wide at certain points. "You're never more than an hour's drive from El Al or Israir," Toker says of his early days of meetings with the country's main airlines. The flip side of that constrained space is congestion: Besides air travel, a great emphasis is placed on innovating in the mass-transportation space, says Naor, who points to the government-supported EcoMotion initiative, with over 600 startups in the smart transportation sector.
In the Spotlight
Cockpit Innovation's pitch day. Image: Inbar Levi
As the old saying goes, "Build a better mousetrap, and the world will beat a path to your door." Israel, it can be said, has been continually building better – often entirely new – mousetraps. This alchemy of geographical proximity, shared motivation and tech skills has caught the notice of the rest of the world, as incubators seek to align themselves with Israeli innovators.
Gategroup, for one, has invested in Cockpit Innovation, the venture arm of El Al, for a cash consideration of $2.54 million. As gategroup CEO Xavier Rossinyol wrote in the company's 2018 annual report, "The investment in Cockpit Innovation will help us to identify new airline and passenger needs, provide access to a number of projects and startups, as well as hasten their introduction to market. As a result, gategroup will enhance the customer experience by providing best-in-class solutions combined with cutting-edge customization."
"Airlines need to embrace change and reduce bureaucracy wherever they can to allow the seeding and flourishing of innovation." – Amit Nevo, Cockpit Innovation
Collaboration between older and slower organizations, such as airlines, and younger and more agile startups is gaining steam in the aviation industry. "Yet it's only just started," says Amit Nevo, marketing director at Cockpit Innovation. "To make it work, both organizational cultures have to inch closer to one another. Airlines need to embrace change and reduce bureaucracy wherever they can to allow the seeding and flourishing of innovation. Startups and young companies have to learn to adapt to the often-unavoidable processes of big organizations."
Key players in the airline industry have been investing in the region, which in turn has been fostering new solutions from startups, both emerging and established. "In recent years, different companies in the airline industry, as well as in other domains of travel, have come to Israel in order to found centers for R&D, innovation and investments," Green says. "The rise in the scope of activity of such companies is causing more startups to adjust their technologies so they would fit the airline and travel industry, and this trend is sure to continue in the future. The result is that the different players in the industry are increasingly enjoying new technological solutions and the highest standards of innovation in the world." Nevo mentions that tech titans like Facebook, Apple, IBM and Microsoft have chosen Israel to establish R&D centers – because 19-year-olds enter the marketplace with a fortune's worth of tech training courtesy of the IDF.
While still scoring some B2C successes and innovating in all of those buzzword categories (such as AI, VR, AR, IoT), Israeli entrepreneurs have a noticeable tendency toward founding B2B startups. The Israeli market is quite small in terms of commercial potential, posits Green, who added that the process of marketing to businesses is less complex and expensive than appealing directly to the masses. And if these startups, as Nevo says, are "pushing innovation in almost every sector, including cybersecurity, med-tech, autonomous driving, energy, machine learning, agritech, drones, aviation, travel, aerospace and more," they'll continue to build up Israel's innovation culture and tech influence around the world.
"A Startup Nation" was originally published in the 9.3 June/July issue of APEX Experience magazine.