😀
How Israel and its hi-tech industry are winning the US-China trade war
The ongoing trade war between the US and China is hurting the world's two largest economies.
By ILAN ZWEIG
Central program at WeWork's new offices in Jerusalem on January 10.(photo credit: MARC ISRAEL SELLEM)
When two are fighting, the third wins.

The ongoing trade war between the US and China is hurting the world's two largest economies.
As their dispute regarding import taxes and tariffs takes a toll on most trade-dependent countries, Israel emerges as one of the few winners. Seemingly undisturbed by the saber-rattling of US President Donald Trump and Chinese President Xi Jinping, Israel reached an unprecedented level of $110 billion of exports last year and is expected to further increase its trade balance in 2019.
In recent years, Israel significantly expanded its economic ties with Asia, the largest emerging market for the Jewish state.
Last year, Israel's exports to China alone increased by 52%. A significant portion consisted of hi-tech and cyber-solutions, which Israeli companies sold to Chinese customers and investors.
The soaring trade between Israel and China is further encouraged by US-Chinese relations. As Trump continues his "America first" policy, Silicon Valley becomes less accessible to companies in China. Israel's rapidly growing hi-tech industry is an attractive replacement, and its technology companies are taking advantage of the opportunities the Chinese markets offer.
Chinese investment in Israel's hi-tech industry is mimicked in the Israeli start-up sector. Foreign direct investments from China rose significantly, from 8% to 12% during the last year alone. This boost is the outcome of Chinese investors allocating their resources outside the US.
Above all, Jack Ma, the founder of e-commerce group Alibaba, invested millions of dollars in Israeli computer-vision company Visualead, in various Israeli start-ups and in Jerusalem Venture Partners' fund.
During his visit last October, Ma expressed interest in a joint research center between Israeli and Chinese academic institutions, topping off the current economic upward spiral between Israel and China.
Despite the tremendous economic growth in the Asian market, Israel must not allow itself to be carried away by the associated euphoria. The warming bilateral ties between Israel and China are understandably concerning to the US government.
Last month, just after Trump officially recognized Israeli sovereignty over the Golan Heights, the US president kindly warned Netanyahu to refrain from expanding the relationship between Jerusalem and Beijing.
Israel pledged not to sell weapons or dual-use civilian and military technologies to China, but it could not alleviate all US concerns regarding information security and espionage.
The acquired managing rights for a Haifa Port wharf by Shanghai International Port Group, which is expected to be fully functional by 2021, is a thorn in the side of responsible US officials.
Chinese involvement in Haifa Port, a national security asset to Israel and a frequently used dock for US warships, potentially harms information security and facilitates espionage by the Chinese government on parts of the US Navy.
The Haifa Port deal is an example of how Israel should not conduct business in the face of the worsening relationship between the US and China. Accepting Chinese investments at the expense of US interests will bring more harm than good to Israel in the long run.
Its balancing act between the two global superpowers can therefore only be successful if Israel takes advantage of the new market without negatively impacting its cooperation with America.
Such a course of action requires both the Israeli government and private companies to responsibly interact with Chinese investors.
Private sector companies must not accept foreign investments which impede their control over their own businesses and lead to a deviation from their long-term strategy. Additionally, the government needs to impose regulations that avert investments from non-US allies on critical Israeli infrastructure and technology.
Israel cannot steer Trump's decisions in the trade war with China. Also, Jerusalem cannot avoid the negative effects of the trade war on the world economy.
But if Israel chooses to take the middle-road between the US and China, to respect and value the interests of its strongest ally while improving its economic ties with the largest emerging market, the Israeli economy and its hi-tech sector is designed to succeed.
Israel will consequently win in the US-China trade war – and must not fear either outcome.
The writer is originally from Switzerland. He now resides in Israel while he obtains his master's degree in government from IDC Herzliya.
Israel Chamber of Commerce in China Launches Tel Aviv Office
IsCham is a nonprofit organization launched in 2008 in Beijing with the intention of promoting trade relations between China, Israel, and Jewish people around the world
Elihay Vidal
The development of trade relations between Israel and China is only just beginning, Ariel Briskin, the general manager of the Israel Chamber of Commerce in China (IsCham), said Tuesday.
IsCham is a nonprofit organization launched in 2008 in Beijing to promote trade relations between China, Israel, and Jewish people around the world.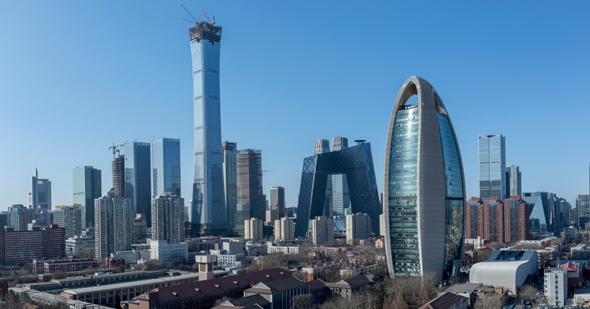 Beijing. Photo: Shutterstock Briskin spoke at the inauguration ceremony of IsCham's office in Tel Aviv. The two countries had established diplomatic and trade relations 25 years ago, including mutual investments, infrastructure projects, and export and import agreements, but the relationship holds a much greater potential, he said. The opening of the Tel Aviv office represents a new dawn for the relationship between China and Israel, said at the event Nechemia ("Chemi") Peres, co-founding partner at Israel-based venture capital firm Pitango Venture Capital. His father, the late Israeli President Shimon Peres, launched IsCham over a decade ago in an effort to nurture the academic and commercial collaborations between the countries, Peres said. Israelis tend to think of the U.S. as the main market for growth, said Tal Badt, former director of business development for X-Lab, a startup incubator operated by Tsinghua University in Beijing. However, it is vital for Israeli companies, especially those dealing with artificial intelligence and medtech, to consider China as a potential market, she added. With the increase in income of China's immense population comes a broader market and a thirst for new solutions to local problems, she explained.
Companies must be present in China in order to succeed in the local market, said Zvi Shalgo, founder and chairman of PTL Group, a Shanghai-headquartered management company that helps clients establish a local presence in China. The ability to communicate the technology and business model and getting immediate feedback is crucial, especially when planning joint investments with local partners, he explained. It is also important to understand the different business culture in China, said Yaniv Rosenzweig, chief financial officer for Asia Pacific at Israeli drip-irrigation company Netafim Ltd. Despite being a pioneer and world leader in its field, Netafim previously failed in China and had to shut down several factories there, Rosenzweig said. Thanks to local organizations and a better mastering of the local market, Netafim changed its business model in the country and grew significantly in the past few years, he added.